Knights of Columbus Ladies Auxiliary
The St. Patrick Ladies Auxiliary of Knights of Columbus Council 10567 was established in April 1999.
The Auxiliary's primary mission is to help the Knights, when needed, in their endeavors. We also consider it our mission to contribute our time and talents to the needs of the parish and to be an encouragement, as well as, a "light of Christ" to each other.
As a group, we strive to promote our Catholic faith with strong prayers and create warm friendships as we work together to fulfill God's mission here on earth.

"THE BODY IS A UNIT, THOUGH IT IS MADE UP OF MANY PARTS; AND THOUGH ALL OF ITS PARTS ARE MANY, THEY FORM ONE BODY. SO IT IS WITH CHRIST". 1 Corinthians 12:12

The Auxiliary is open to all women 18 years of age or older, married or single of the parish and surrounding churches. Our meetings are held on the first Thursday of each month beginning in August and go until the month of June. On our meeting night, Mass is celebrated in the chapel at 6:00 pm for both the Knights and the Ladies. After mass, the ladies meet in St. Joseph Hall at 6:30 and enjoy fellowship and dinner together. Our meeting commences after dinner.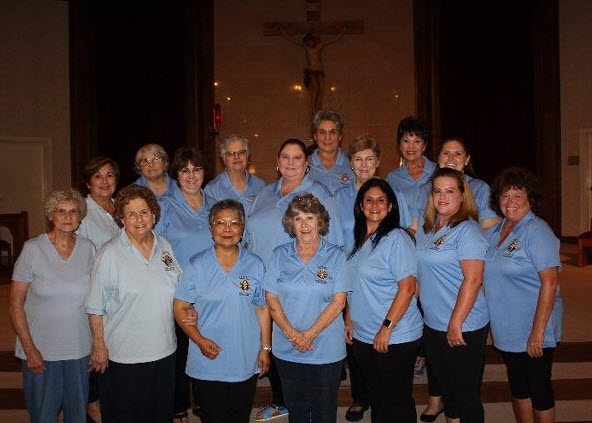 Officers for 2023-2024:
Mrs. Margaret Pender, President
Mrs. Pat Roden, 1st Vice-President
Mrs. Sara Jean Brooklere, 2nd Vice-President
Mrs. Krista Carroll, Treasurer
Mrs. Ann Tulloss, Secretary
Mrs. Betty Balcom, Chaplain
Mrs. Monica Crocker, First Historian
Mrs. Debbie Brasher, Second Historian
Members:
Mrs. Daphne Davis
Mrs. Tasha Parrish
Mrs. Jimmie Chicarello
Mrs. Ann Tulloss
Mrs. Patty Wehby
Mrs. Debbie Brasher
Mrs. Sara Jean Brooklere
Mrs. Monica Crocker
Ms. Shirley Goolsby
Ms. Taylor Looney
Mrs. Roxanne Montgomery
Ms. Ann Rainey
Ms. Pat Roden
Ms. Renee Vendt
Mrs. Hilda Willis

Eileen Smith
Mary Carol Martin
Camille Von Hagel
Freddie Canoles
Louise Meadows
Cecilia (C.D.) Day
Barbara Rucker
Catherine Barrett
Sandy Von Hagel
Lois Bradley
Cathie Barron
Nino Odgers
Pat Rogato
Sandy Alfano
Eternal Rest Grant Unto Them O' Lord
And Let Perpetual Life Shine Upon Them