Welcome to the 91st Kateri Circle information page. Our purpose is to promote Native American spirituality within the Catholic Church. We are an intertribal group and welcome everyone. For more information, click here.

In May of 1991, the 91st Kateri Circle was recognized as an official Kateri Circle. The Blessed Kateri Tekawitha Shrine was proposed to the Circle members in 1999 by Sr. Adelangela Paita and presented to Bishop David Foley. The artist selected for the shrine statute was Guy Arello. The statue was installed in 2005 on the campus of St. Patrick at the suggestion of then pastor, Fr. Gray Bean.

St. Patrick's campus is an official Diocesan Shrine and the Kateri Circle is an official "Apostolate Ministry" of the Diocese of Birmingham.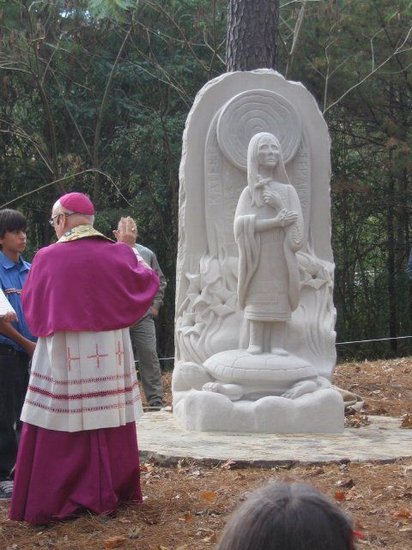 Bishop Foley blesses the shrine.
The shrine was dedicated during a beautiful ceremony led by Most Reverend David Foley, then Bishop of the Diocese of Birmingham, on November 13, 2005. More than 150 people attended. The dedication ceremonies included an introduction by Brenda Collier, music by the St. Stephen Choir, Blessings of the Four Directions by Sister Kateri Mitchell, the blessing of the statue by Bishop Foley and Father Gray Bean, comments by artist Guy Arello and Native American music and dancing. For full photos of the historic day, visit our photo gallery page.
We now have a restful and peaceful area in the woods of St. Patrick Catholic Church to pray and meditate with the first Native American saint who is the patron saint of all native people and of the environment.
Saint Kateri was born in 1656 in New York to a Christian mother and a non-Christian Mohawk Chief. Her parents and brother died in a smallpox epidemic which left Kateri's eyesight impaired, her face scarred, and it left her weak for the rest of her life. At the time she was only 4 years old.

Tekakwitha met Father de Lamberville in 1675, and told him of her desire to be baptized. She took religious instructions and was baptized on April 5, 1676, Easter Sunday. She was given the name Kateri.

After having to flee her village to the St. Francis Xavier Mission near Montreal, Kateri was able to receive her First Holy Communion. On Christmas Day, 1679, Kateri pronounced her vow of perpetual virginity. On April 17, 1680, Wednesday of Holy Week, she died at the age of 24. Her last words were, "IESOS konoronkwa" or "Jesus I love you." Fifteen minutes after her death, before the eyes of two Jesuits and all the Indians that could fit in the room, the ugly scars on her face disappeared. On January 3, 1943 she was declared Venerable by Pope Pius XII. She was Beatified by Pope John Paul II on June 22, 1980 and was canonized on October 21, 2012 by Pope Benedict XVI.
St. Kateri Tekakwitha's Feast day is April 17th in Canada and July 14th in the United States.
Members
Contact Name
Department
Job Title
Phone Number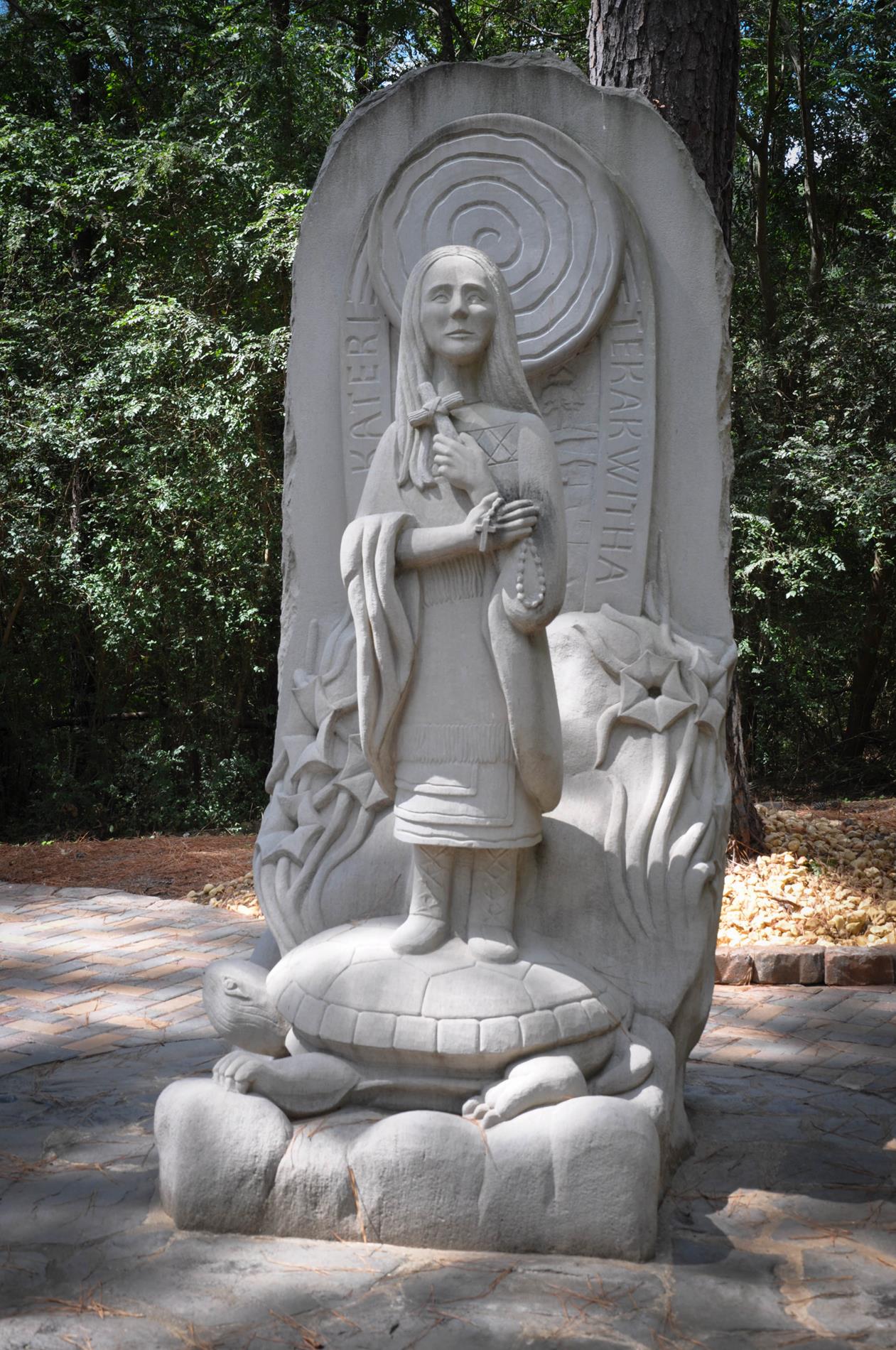 O Saint Kateri, Lily of the Mohawks,
Your love for Jesus,
so strong, so steadfast,
pray that we may become like you.

Your short and painful life
showed us your strength and humility.
Pray that we may become
forever humble like you.

Like the bright and shining stars at night,
we pray that your light
may forever shine down upon us,
giving light, hope, peacefulness
and serenity in our darkest moments.

Fill our hearts, Saint Kateri Tekakwitha
with your same love for Jesus
and pray that we may have the strength and courage to become one like you in Heaven.
Through Christ our Lord. Amen.