Though the history of our parish, we have been blessed with many wonderful couples. Michael and Patricia Willingham are two of the longest continuous members of our church community. In fact, they were married in 1968 at Immaculate Heart of Mary in Hillview - one of four churches that merged to form St Patrick.

Over the years, Mike and Pat have been involved in many aspects of ministry, but none so significant as the time over the (many) years that Pat has served in music ministry. One can only wonder how many times she has shared her talent, leading us in worship at Mass (as she continues to do on Saturday night). Mike and Pat are especially proud of their Catholic faith and of their family, to whom they have passed on that faith.

Let's get to know a little more about Mike and Pat Willingham, one of the many fine couples in our church community. Here are some thoughts that Pat shared with us recently.
We were married on June 22, 1968 at Immaculate Heart of Mary in Hillview, which was one of the four churches that formed the St. Patrick Catholic community. I believe we may be the longest continuous members of St. Patrick. We have been blessed with three children – Barry, Bethany, and Beverly.
Barry, his wife Denise, and son Andrew (14) live in Vestavia. They are members of Prince of Peace.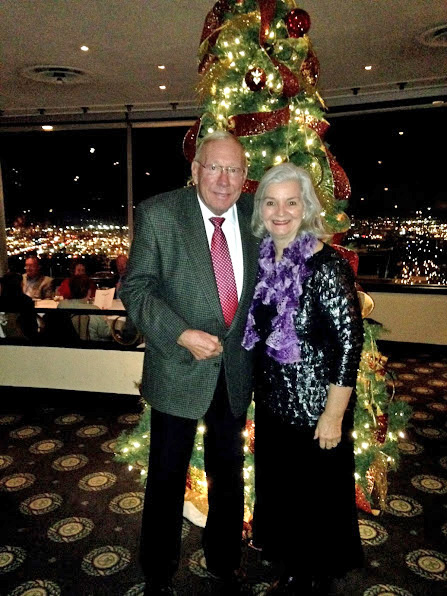 Bethany and her husband Justin Ross live in Germantown, Tennessee with their three children: Brittain (almost 20), Michael (18) and Claire (15). They attend Incarnation Catholic Church in Collierville, Tennessee. Bethany is employed by the Diocese of Memphis.
Beverly and her husband, Brandon Marbut, reside in Huntsville with Lydia (18), Mary Chapel (17) and Ava (13) They are members of St. Mary of the Visitation.

We are so thankful that all our children were married in the Catholic Church. Barry and Denise were married in San Francisco; Bethany and Justin in Memphis; and Beverly and Brandon here at St. Patrick by Father Ray Murrin just before he retired.
Michael is a "cradle" Catholic, and I am a convert. He attended Blessed Sacrament Elementary School and graduated from John Carroll in the class of 1963. He is an Army veteran, having served from 1963 to 1966. I grew up in Jacksonville, Alabama and graduated from Birmingham Baptist Hospital School of Nursing, now known as Ida V. Moffett School of Nursing at Samford University. I worked until we had children. I was a stay-at-home mom until I started teaching at St. Joseph's Elementary School in Ensley.
During all this time Michael worked in the trucking industry. He served as President of the Birmingham Motor Truck Club and the Birmingham Traffic and Transportation Club. Mike's company donated the trailer that was used as the outdoor stage for Springfest for many years. Mike also served as Parish Council President when it was formed, having taken office when Charles Lanzi had to step down because of illness. He was subsequently elected to two consecutive terms. He also served as a Lector.
Recently Michael discovered that the last surviving Nun who taught him at Blessed Sacrament was living in Raine, Louisiana. She was known as Sister Wilhelmina (not sure of spelling) and now goes by Sister Margaret. Before Covid, he and some of his classmates visited her and remain in contact.
I have been fortunate to have been given some musical talent that I have had the opportunity to share with this faith community for 53 years. I have shared some joyful and sad occasions with many of you.
Of course, I could not share my story without mentioning Catherine Barrett. She was my guide and cheerleader. She taught me so much about our church. Another person whom I appreciate is Benny Bakane ("Jesus Loves You") and his other phrase that really hits the heart of our faith (Mary said "Yes!"). I would be remiss if I did not mention Father Pat Sullivan who instructed me in the faith and urged me to be a Minister of Music (think arm twisting). Fond memories also include "cruising" with fellow parishioners and attending mass on the ship with Father Vernon Huguley.
Note: Mike typically led the rosary on the cruise bus as it headed to the port of departure.
Sister Veronica and Sister Maura played a significant role in our faith journey. These two and others too numerous to mention have certainly kept us grounded in the faith. We are better people because of their influence.
Working with music has been a real joy. Lou Colombo, Cherie Poole, Jim Crandall, Doris Moody, and Janet Rubino have made me a better musician. I always tried to be available for whatever I could contribute whether it was playing piano or organ, cantor or singing with the choir or leading the choir. I have worn many hats!
Being a member of St. Patrick and serving in music ministry has been wonderful and rewarding. I know that my time is coming to a close because of age and traveling from Cullman to Adamsville. It will be sad for me, but I know I have done my best to serve God by serving the people at St. Patrick. Thank you all for allowing me to be a part of your lives. I pray that God will continue to bless all the people who call St. Patrick "home." There's no other place like it.
Why does all this matter? Why do we strive to live our lives as Catholic Christians?
Because Jesus died for all of us, and we are truly thankful for all our blessings.
St. Patrick....pray for us
St. Catherine...pray for us
St. Michael...pray for us
Immaculate Heart of Mary...pray for us
St. Raphael...pray for us
Thank you, Pat, for sharing these thoughts and for all you and Mike have done for St. Patrick parish over the years.