History of St. Patrick Knights of Columbus Council 10567
It began with a single statement from Lou Colombo to Louis Muro. "Lou, you ought to start a Knights of Columbus Council at St. Patrick," Lou Colombo said.
The idea was born and Louis N. Muro turned it into reality. Armed with a notebook and a pen, Mr. Muro spent his time in the Fellowship Hall after Mass each Sunday signing up prospects for the "New Councl" as he called it. As a longtime member and Past Grand Knight of Council 4304 in Birmingham, Mr. Muro knew what a great Knights of Columbus Council could do for its parish and its parishioners.
The response was overwhelming and it didn't take long for St. Patrick to have its own Knights of Columbus Council, number 10567 in the long line of Councils born in the name of founder Father Michael J. McGivney. For his efforts, Mr. Muro was honored with the "Proposer of the Year" award for the state of Alabama.
Sixty-two men were present in the St. Patrick Fellowship Hall on March 17, 1991 (St. Patrick's Day believe it or not) for the First Degree ceremony and the Council was born. Mr. Muro served as the Charter Grand Knight but soon gave way to John T. Majerik, Council 10567's first full-time Grand Knight.
There is no way to measure the impact that Louis Muro's idea has had on St. Patrick and on the lives of its parishioners. Since that first day in 1991, the men of Council 10567 have performed hundreds of service projects and distributed thousands of dollars to good causes. They have exemplified characteristics as Catholic men that would make Louis Muro proud.
Louis Muro died in 1996 at the age of 78. But Council 10567 lives on as a tribute to him and to that dream he had a long time ago.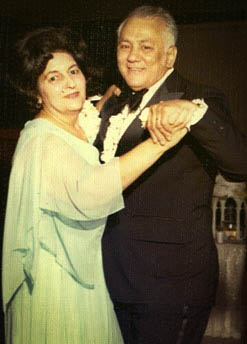 Charter Grand Knight Louis N. Muro

Listed below are the names of the original 62 members of St. Patrick Knights of Columbus Council 10567.
Benny Bakane

Charles Blanchard

Dale Blanchard

Richard Brasfield

Charles Brooks

Donald Byrd

Earl Canoles

Bryant Collins

Louis Colombo

James Crandall

Wilmer De Rouen

Jerry Frazier

Joe G. Giambrone

Joseph J. Giambrone

Phillip Giambrone

Vince Giambrone

Norman Gugliotta

Lee Gunnin

James Havlik

Michael Hobe

John Hramec

Phillip LaSusa

Joe Locascio

Denis Mackinaw

John Majerik

Tom Marks

Stephen McArdle

Mike Montabana

Tony Montabana

Edward Moody

Steven Moody

Eugene Moulin

Alex Muro

Louis J. Muro

Louis N. Muro

Ronnie Muro

Rev. Raymond Murrin

Paul O'Connor

Richard O'Neill

William O'Neill

Charles Perricotti

Charles Perryman

James Poole

Joseph Puccio

William Rollo

Pasco

Rosato

Leo Russo

Don Schatzer

Frank Slovensky

Louis Slovensky

Harold Smith

John Sokira

Steve Sokira

Louis Sullivan

Ramon Tancinco

Ramon A. Tancinco

Phillip Troha

Alvin B Von Hagel

John Wallace

Phillip Whatley

Daniel Whitaker

Floyd White
Louis N. Muro
John T. Majerik
Leo Russo
Lee Gunnin
Bryant Collins
Phil Slovensky
Tom Marks
Mike Muro
Dale Blanchard
Jerome C. Bradley
Tom Richardson
Louis J. Muro
Rob Smith
Chris Muro
Ronnie Muro
Mike Muro
Clay Reece
Larry Cannon
Greg Brasher
Gerald Kiker
William Boone
Mike Wehby, Jr.
James Nelson
Don Byrd
McCahill Smith
Jeff Blanchard
Charter Grand Knight
1991–1992
1992–1993, 1993-1994
1994-1995
1995-1996
1996-1997
1997-1998, 1998-1999
1999-2000
2000-2001
2001-2002
2002-2003, 2003-2004
2004-2005, 2005-2006
2006-2007
2007-2008
2008-2009
2009-2010
2010-2011
2011-2012, 2012-2013
2013-2014
2014-2015
2015-2016
2016-2017
2017-2018, 2018-2019
2019-2020, 2020-2021
2021-2022, 2022-2023
2023-2024