Sacrament of the Sick: One Man's Experience
Editor's Note: In this story, deceased St. Stanislaus parishioner Cruz Wathen writes about his personal and intimate experience with his life-threatening disease and how his anointing changed his life forever.

Introduction:

I write this to put my experience into words and in hopes that it might remind me of the powerful phenomenon I went through. I do not write to try to promote any sympathy for myself or to suggest that I am in any way some kind of saint or a saintly man. I am just a person who happens to have cancer and am trying to go about my life making the adjustments necessary. I am not courageous or some kind of heroic figure. What I do now, I do out of fear. Not fear of death, but fear of failing to live up to my potential.
The story:

I was diagnosed with Colon Cancer on February 3, 2006. I suspected that it might be cancer, but it was still a shock to hear the words, "You have a blockage in your colon, and it is most likely cancer". Surgery was scheduled for the following Monday, February 6th. We, my loving wife Thomasine and I, arrived at Saint Vincent's and began the process of checking in. My family began to show up soon after. I was sent into a room and given the orders "into the hospital gown, take off everything" and I complied. A very kind nurse put the needles into my hand that would be my lifeline for the next 8 days. The anesthesiologist came by and introduced himself and suggested that he could give me something to make me relax; I refused his offer, and I'm glad I did.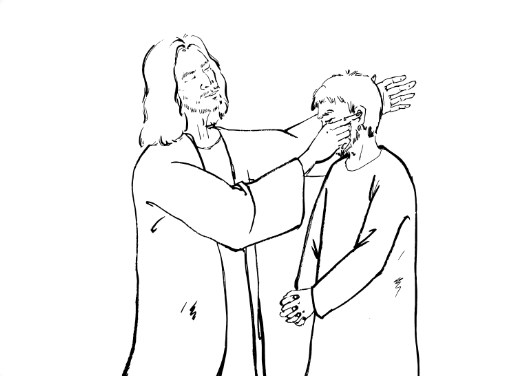 Prayer For Renewed Strength

O Lord, my God, Please give me the grace to maintain my hope in you through all of life's changes and to taste and see your goodness. I praise you for the gifts you have showered on me for so many years.Help me find joy in a renewed strength of spirit. Please bless me with good health, and inspire me to be a good example to others. For you are Lord, forever and ever. Amen.
Father Gray Bean then came by to anoint me. We passed some small talk, and he then got his kit out. Father Bean's demeanor was almost saintly. The Sacrament of the Sick is a rite of the Catholic Church that I am familiar with, and have received it before in mass situations involving many people. Father Bean made the Sacrament personal; he was not just going through the motions and mumbling words. Father Bean was involved. I felt that Jesus was at my side; He was saying the words, and giving me absolution. He was giving me strength, a different kind of strength that I have never experienced. As Father Bean went through the Sacrament and anointed my head and hands, I lost all fear. I knew that I was going through a difficult operation, and that I would be sick, but it no longer seemed to matter. Father Bean completed his work, and then left so that my family could spend a few moments with me before the operation. I was aware of their presence, and their concerns, but I could not get the feeling of complete confidence and preparation out of my mind. I might die, but probably not, but I was not afraid. Father Bean, or Jesus, had told me that everything was going to be alright, and I believed them. I can only hope to experience that sense of completeness again at the hour of my death. I will try to live the rest of my life with this experience as an example of the power of prayer, and thankfulness for the Sacraments the Church gives us.