Five Minutes With Charlie
Editor's Note: In this story, St. Patrick parishioner Louis J. Muro remembers his friend, Mr. Charles Blanchard, who passed away on June 2, 2018. Mr. Blanchard was an ordinary man whose life work made him extraordinary. We hope you enjoy this "Story with a Purpose".
"He was a friend of mine.
Every time I think about him now
Lord I just can't keep from cryin'
'Cause he was a friend of mine."
--Bob Dylan
At the beginning, and in the end, he was a friend of mine.

Charles Blanchard. My friend.

It's still hard for me to wake up and realize that he is gone. For more than 30 years, Charles Blanchard was such a constant in my life. He was ever-present, his friendship was unwavering, and he was someone who I admired and loved.

Charlie was not an ostentatious man. He was just the opposite. He never sought the limelight or credit or awards for the things he did. But he always, always did them. Never, ever did he have an unkind thing to say about anyone. Not once in all the years, I knew him. He respected everyone and everyone respected him.

In many ways, Charles Blanchard's life was a representation of days gone by. He was as unselfish a man as God ever put on this earth. His greatness came not by fame or fortune, but by doing what God intended him to do.

When it came time to be a son, a brother, Charles Blanchard did his duty.

When it came time to serve his country, he did his duty.

When it came time to be a husband, he did his duty.

When it came time to be a hard-working man and provide for his family, he did his duty.

When it came time to be a father, a grandfather, he did his duty.

When it came time to be a Catholic, he did his duty.

When it came time to be a Knight of Columbus, he did his duty.

When it came time to stand up for his principles, he did his duty.

When it came time to be a servant and a friend, he did his duty.

William Shakespeare was prone to hyperbole and verbosity in his language. When a loved one dies or a notable person passes away, people will inevitably quote Shakespeare.

The most common adulation comes from Hamlet, who, when talking about his dead father, said:

"He was a man, take him for all in all, I shall not look upon his like again."

"I shall not look upon his like again."

How many times has that phrase been said about a person who has passed away?

I think about Charlie Blanchard and I choose to say the opposite. He would have wanted it that way.

I say, with hope and prayer, that we shall see his like again. We must see his like again. The world of the future will need people like Charles Blanchard. What a better place it will be if that turns out to be so. And, borrowing from Charlie's eternal faith and optimism, I believe it will.

It was late in the Springfest day on May 20, 2018. The auction was winding down, and I was standing behind the food serving line. Charlie came through the line with a sandwich on his tray. He smiled at me and we nodded to each other, both of us with a slight laugh. We didn't say anything to each other. It was our way. We didn't need to. There was an unspoken bond between us that only years of togetherness and comradery and common faith and love can create.

In that moment we said nothing but at the same time, we said everything.

I would see Charlie once more, briefly, before he died. But I keep thinking about that brief exchange at Springfest. I like to think of that as our final goodbye. Maybe the Lord sent Charlie my way late in that day as a way for us to have one last meeting. I believe in things like that.

Father Pat Sullivan said once that "memories are God's greatest gift to man."

I have many fond memories of Charlie but I remember now our brief, five-minute car rides together to St. Patrick.

Many times Charlie would stop by my house to pick me up and we would ride to church together. We would be going to a Knights of Columbus meeting, Springfest setup, or some function at the church where we thought our presence was needed.

When I got in the car, the radio was always on very loud. Charlie was hard of hearing. We would start talking, both of us almost shouting over the radio. There was excitement in our voices as we enjoyed seeing each other again and looked forward to the upcoming fellowship with our friends at church. Those five-minute rides with Charlie were special to me. I always looked forward to them.

There were no more rides with Charlie after I moved from Adamsville late in 2007.

Soon after I moved, someone asked me, "What do you miss about living in Adamsville?"

Without hesitation, one thought quickly came into my mind.

"Those five-minute rides to church with Charlie Blanchard," I said.

Five minutes with Charlie. That's what I missed.

As long as I live, I will miss it.

As long as I live.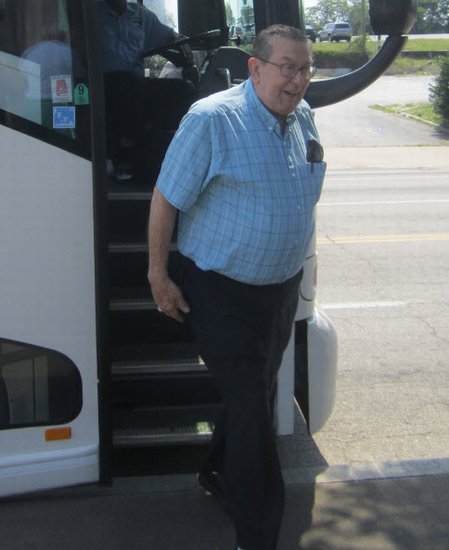 "To sum up, all of you be harmonious, sympathetic, brotherly, kindhearted, and humble in spirit; not returning evil for evil or insult for insult, but giving a blessing instead; for you were called for the very purpose that you might inherit a blessing. Who is there to harm you if you prove zealous for what is good?" (1 Peter 3:8-13)

"When they built you, brother, they turned dust into gold
When they built you, brother, they broke the mold."
(Bruce Springsteen)