Joe Schober is currently serving as Recorder for Knights of Columbus Council 10567. Since becoming a Knight in 2010, Joe has been a loyal and dedicated brother Knight who lends his time and talent volunteering on many church projects. He is a fixture at weekend masses. Joe is also a Fourth Degree Knight.
The son of Joseph and Cecile Schober, Joe's Catholic journey has taken him to St. Anthony in Ensley, St. Alice in Edgewater, St. Raphael in Graysville and now St. Patrick. Joe is a first cousin to parishioners, Donnie Schober and Doris Schober Moody.
Joe was honored to receive the Knights of Columbus Knight of the Year Award in 2019. At that time, he said, "Our job as Knights is to be good stewards and I always try to be there for someone when they need it."
In this Parishioner Spotlight, let's get to know Joe Schober a little better.
Tell us a little about yourself and your family.
I was born and raised in McDonald's Chapel, just a short distance from St. Patrick. I was married to my wife, Leigh Ann, for 34 years. Our Savior called her home to be with him in 2016. Together, we raised our son and two grandchildren, Preston, and Gwen.
How long have you been a member of St. Patrick?
I've been a member for a very long time. I also attended St. Raphael in Graysville as well as St Alice in Edgewater.
Have you always been a Catholic?
Yes - born a "cradle Catholic".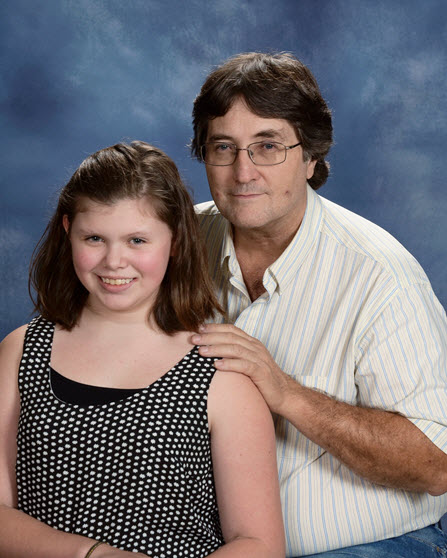 Joe with his granddaughter, Gwen.

What activities have you been involved in (currently or in the past)?
I helped my father when I was a young boy with repairs and projects at church. I've been honored to serve and continue to help out with these types of projects. I currently serve as an Officer on our local Knights of Columbus Council.

Share some of your favorite memories of being a member of St. Patrick.
- Receiving the 'Knight of the Year Award' in 2019
- Lenten Day of Service – this is a great opportunity for fellowship and for helping others.
- Fundraisers like the Knights of Columbus 'Tootsie Roll Drive'
- Ladies Auxiliary 'Bingo' – another great time for fellowship
What St. Patrick people have touched your life (current or past members)?
Father Gray Bean; Father Vernon Huguley; Catherine Barrett; Joe Maniscalco; Uncle Bill Schober (Mr. Frank Schober); Donnie Schober; Doris Schober Moody; and my Knights of Columbus Brothers
What else would you like us to know?
I know in my heart of hearts that I'm far from, and may never be a 'perfect Catholic' but, my faith teaches me that with HIS teachings and spiritual word, I continue to get closer.
"HE's still working on me!"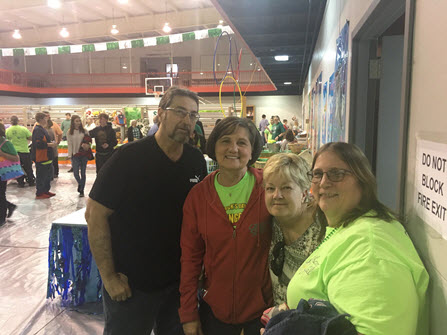 Joe with his cousin, Doris Schober Moody, sister, Janice Schober Burgess, and cousin, Milissa Duchock Majerik at Springfest.