Holy Communion (Eucharist)
What is the Holy Eucharist? The Holy Eucharist is a sacrament and a sacrifice. In the Holy Eucharist, under the appearances of bread and wine, the Lord Christ is contained, offered, and received.
Christ instituted the Holy Eucharist at the Last Supper, the night before He died. The word "Eucharist" means "Thanksgiving."
Children are prepared for First Communion through our Faith Formation program. Preparation begins in the first grade and children receive the sacraments at the end of 2nd grade. Preparation for the sacrament of First Communion also includes preparation for the sacrament of Reconciliation (Confession). Children should be 7 years old before beginning the 2nd grade. Classes begin each year in September.
If you are an adult, non-Catholic (or fallen away), and are interested in receiving the sacraments, please see the information about our RCIA (Rite of Initiation) classes here.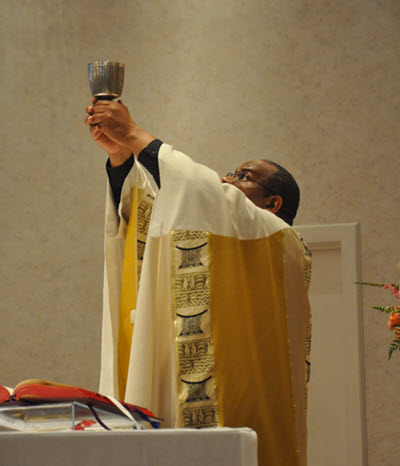 Finding Peace in the Eucharist