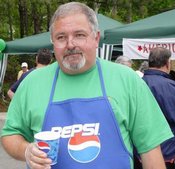 Jerome C. Bradley
The 18th Annual Jerome C. Bradley Memorial Dinner Dance will be held on Saturday, August 24 from 6 p.m. to 10 p.m. at the Bessemer Civic Center.
The festivities include a wonderful buffet dinner and desserts provided by the award-winning Happy Catering Company. Following the dinner, cash drawings will be held for $10,000 in total cash prizes. The drawings will culminate with the drawing for the grand prize of $5,000. Click here to view the complete schedule of cash door prizes.
As part of Dinner Dance tradition, the Knights have selected The WellHouse as this year's spotlight chairity.
The WellHouse provides a safe residential environment to women, offering spiritual, mental, emotional, and physical support services. They welcome all women who have been sexually exploited through human trafficking. Regardless of race, color, creed, or religion, women in pain can be assured they will find love and acceptance at The Well House.
WellHouse Chief Executive Officer Carolyn Potter said, "We are honored to be chosen as the beneficiary of this year's event. The WellHouse is a rescue and recovery organization for female victims of human trafficking. This gift will help us achieve our mission of providing a safe residential and supportive environment to the sexually exploited."

Click here for more information on The WellHouse.
Named in honor of the late Jerome C. Bradley, who was instrumental in starting the Dinner Dance in 2002, this event is popular and fun and supports the many worthwhile causes selected by Council 10567 during the year.
A $100 ticket admits two adults and includes a buffet dinner, beer and wine. Cash door prizes totaling $10,000 will be given away during the evening. To purchase a ticket, contact any Knight of Columbus or send an email to knights@saintpatrickcc.com.
The 18th Annual Dinner Dance is scheduled for Saturday, August 24, 2019.
Check out our flyer, publicity release and Quick Facts related to the Dinner Dance.
Click the View more pictures link above to view photos from the 2018 Dinner Dance.