Another Classic Memory - Who are These People?
Posted by Webmaster in Memories | Comments (2)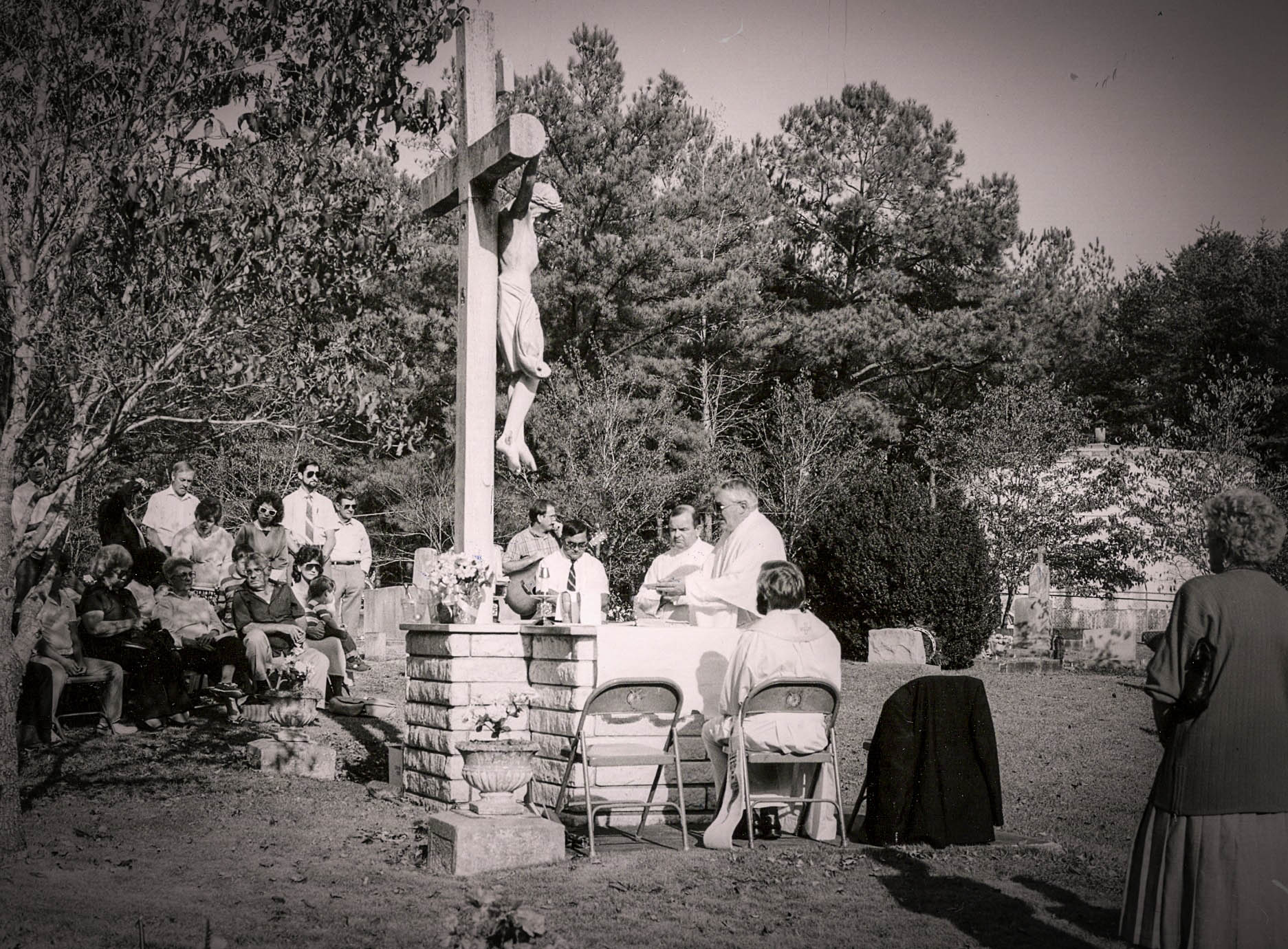 Have you ever attended this annual Mass? Does it have special meaning for you?
Can you identify someone in the photo? Name one person and tell us about your memories or relationship with that person.
Do you know what year this was taken? Were you there and if so, what do you remember about this day?
Post your thoughts and comments here.
---
Comments on "Another Classic Memory - Who are These People?"
Gaeton, you named a lot of people here! I can't tell you the year but I see others I recognize. I am sitting in the chair in front of Donnie Schober and that's one of my boys in my lap (I think Jonathan). Uncle Steve Majerik I think is standing to Donnie's left. Jim Crandall is on the far right just under the Crucifix (he played guitar for this Mass). Bernard von Hagel is under the tree and his sister, Sandy, is standing in front of him. Sandy often was responsible for the liturgy for this Mass and recruited me for many years to provide music. We used to haul a keyboard up there and power it with batteries. I believe that is Mrs. Goode with her back to us in the foreground of the picture. Families often stood near their loved ones' graves as the Mass was said. Father would come around after Mass and bless the graves with holy water. The most beautiful part of the day was when the luminaries were lit around the graves. It was a sight to behold! I highly encourage everyone to experience this beautiful day held the first Sunday of November!
Probably an ALL SOULS MASS at St Michael's Cemetery....year?

I copied and enlarged the picture so I could see the faces better.

That's Father Sullivan?, Deacon Dan Whitaker and Phil Slovensky at the Altar.

Possibly Sammy Slatsky standing near the tree; Donnie Schober with the beard.

The name of the man to Donnie's left slips my memory but he's recognizable.

Gaeton Conte
Commenting has been turned off for this entry.