Journey - How is Your Journey Experience Helping You?
Posted by Webmaster in Journey | Comments (4)
Congratulations to those of you who are experiencing the Journey program and making it a part of your Lenten journey. Use this blog to provide feedback and insight into how your Journey experience is changing your daily life.
To further challenge you during Lent, all Journey groups are asked to focus on one Lenten activity (or more) to share as a group. What will your group choose to do? Here are a few suggestions - attend Stations of the Cross; attend daily Mass together; pray the rosary as a group; work together on the upcoming Lenten Day of service; visit a nursing home or a homebound person. Or let the group decide together a good way to share a special Lenten act or sacrifice.
Share your ideas and actions with other groups so we can inspire each other! Please post your thoughts here.
NOTE: Comments will be approved for publishing once submitted.
---
Comments on "Journey - How is Your Journey Experience Helping You?"
Our group meetings have been just great! We begin with a little time to just share about our day, then have dinner together (and we have had some delicious food) followed by an amazing time of reflection and sharing on the readings in our book. As far as our group event, we will be visiting many of our shut-in parishioners and bringing them some baskets to cheer them in anticipation of the Easter season this Sunday afternoon. Looking forward to our next session on Jesus' relationship with His friends. Check out the information on our March 25th visit with some new friends (shut-in and sick) by clicking here.
Our Journey Group: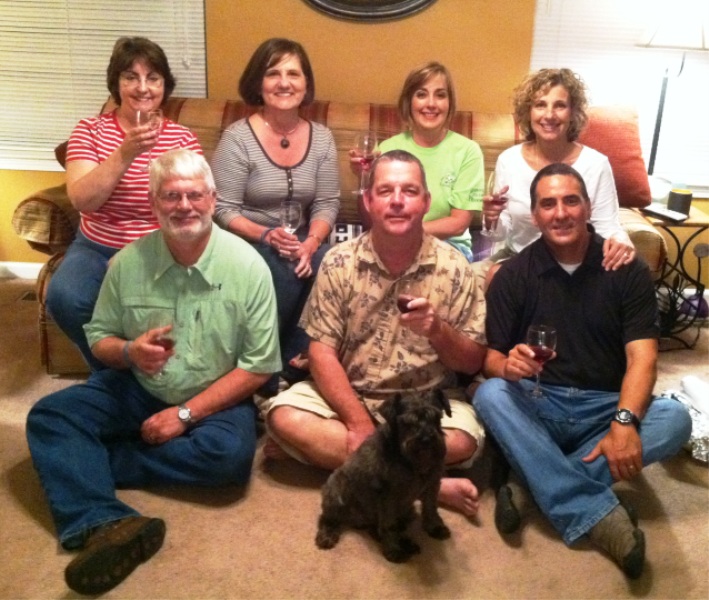 Back Row: Patti Wilson, Doris Moody, Elizabeth Cather, Charlie Muro
Front Row: Eddy Moody, Jamey Cather and Mike Muro (and our mascot, Bentley!)
We were extremely pleased with the fellowship in our group. Strangers became good friends; everyone shared experiences which contributed to our spiritual growth. The material was very good. Look forward to the next sessions.
Journey has made this one of the most rewarding Lenten seasons I can remember. Instead of being trapped in our normal routine, Rachel and I are sitting down and reading passages from the Bible and discussing before our meeting begins. Of course we do this with on small group night as well. This means 2 nights a week we are doing Bible study thanks to Journey. Nothing could be a greater testimony to the success of this program than that.
I have really enjoyed the Journey program. The discussions have been great and I think the materials are excellent. The Bible readings really make you think about how Jesus reacted and what he said in certain situations and how you might react in similar circumstances.
Commenting has been turned off for this entry.