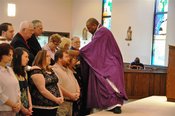 2014 Faith Formation Class
The RCIA: Rite of Christian Initiation of Adults
6 p.m. in the St. Joseph Parish Hall (classes normally begin in September each year)

The RCIA is for those who are interested in learning more about the Catholic Faith.
Despite its formidable title, the RCIA is an informal learning process in a relaxed setting. Whether you are just curious or seriously interested in joining the Catholic Church, the RCIA is what you're looking for. These sessions are taught by Fr. Vernon Huguley. For more information or to sign up for these classes please call the church office at (205) 798-5326.
For all the photos from our 2018 Easter Vigil Mass, check out this album on our Facebook page or visit our photo gallery for a select group of pictures.