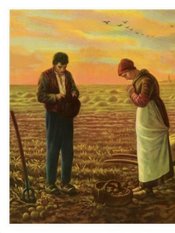 The Angelus by Jean-Francois Millet
Beloved: Sanctify Christ as Lord in your Hearts. Always be ready to give an explanation to anyone who asks you for a reason for your hope, but do so with gentleness and reverence, keeping your conscience clear. 1 Peter: 3:15-16
Faith Formation / Faith Enrichment at St. Patrick consists of multiple areas of study for adults.
Those who wish to learn more about the Catholic faith may join in the RCIA classes beginning the in Fall of each year. See the RCIA section for more information.
Donuts and Doctrine is a study of Catholic doctrines and traditions, primarily through videos that explore a variety of topics. Discussions and questions are welcomed but not required. An easy and painless way to learn more about our faith.
Whether you meet with us on Wednesday evenings or Sunday mornings, we cordially invite one and all to meet, and explore with us together.
The Faith Enrichment study group meets every Sunday morning at 8:30 am in the conference room.
January through February 2020 we will be studying the Lecture series "Catholics in the Public Square: A Study in Conflict and Influence".
Although John F. Kennedy proclaimed an "absolute" separation of church and state, faithful Catholics have long struggled to maintain a connection between faith and politics.

The intersection between church and state has always been a sticking point for Americans, especially for those in public office. During recent election cycles, we've witnessed spiritual compromise by self-described Catholic politicians and the attack of popular media against socially conservative candidates. This year, the tension between church and state came to a head with the major confrontation between the Catholic Bishops and the Obama administration over policy decisions.

Get to the Source

Dr. Bradley Birzer reaches deep into American history to present a study of the conflict between Catholics, the Church, and the federal government. The Founding Fathers made it clear they believed that personal religion had everything to do with politics - but somewhere in our country's history, we've lost that understanding.

Professor Birzer also highlights the influence Catholics have had in the formation of our country. After all, one of the Fathers was a Catholic named Charles Carroll. Dr. Birzer provides an in-depth look at Carroll's role in the foundation of the United States of America in a dynamic treatment spanning two lectures.

Keeping the Faith Alive

Religion, and Catholicism in particular, continued to influence politics and culture through the great religious revivals of the Second Great Awakening in the late 19th century. In fact, Alexis de Tocqueville wrote in his 1835 classic, Democracy in America, that the United States enjoyed a "great unity of Christianity. . . . There can be no greater proof of its utility, and of its conformity to human nature, than that its influence is most powerfully felt over the most enlightened and free nation of the earth."

Dr. Birzer explains this great unity, the soaring church membership that occurred during the Great Awakening, and what it meant for both Christianity and the state.

Down, but Not Out

Although Americans might not enjoy the same unity of Christianity we did a century ago, its fundamental principles continue to powerfully influence literature, academia, social issues, and political parties.

Join Professor Birzer for a study in American history and politics, and how Catholics shaped our country in the past and will continue to do so in the future.
Donuts and Doctrine
Every Wednesday night in the Saint Joseph Hall at 6:30pm
Donuts and Doctrine usually meets on the same Wednesday nights that Faith Formation meets.
What is Donuts and Doctrine you ask?
Donuts and Doctrine is a study of Catholic doctrine and traditions, primarily through videos that will explore a variety of topics. Discussions and questions will be welcomed, but not required. Hopefully, an easy and painless way to learn more about our faith.
During the months of January and February 2020 Donuts and Doctrine will air the episodes of "Catholicism: The PIvotal Players.
You'll discover the places where St. Thomas Aquinas lived, learned, and wrote. Visit the countryside where St. Francis gathered a group of friars and revived the Church. See the places where St. Catherine of Siena ministered and prayed. Trek through England to where Bl. John Henry Newman and G.K. Chesterton left their mark and sparked an English Catholic revival. And through unprecedented HD footage, marvel at the extraordinary art of Michelangelo, from his David statue in Florence, to the Pietà at St. Peter's, to the Sistine Chapel.
We also focus on two incredible saints from the fourth and fifth centuries: St. Augustine of Hippo and St. Benedict of Nursia plus focus on Fulton J. Sheen The Communicator, and Flannery O'Connor The Storyteller
Coming in March !
Escape the Kingdom of Man! Enter the Kingdom of Happiness.
Kingdom of Happiness is an 8-part program that unveils Jesus' plan for happiness in the Beatitudes.
In a world that offers fleeting pleasures in place of true happiness and false promises that actually lead us away from happiness, it's time more than ever to turn to the Beatitudes and enter into the Kingdom of Happiness.
Kingdom of Happiness will:
Show how the Beatitudes are much more than nice sayings, they are the path to happiness charted by Christ himself
Expose the "anti-Beatitudes" for what they are: the kingdom of man's false promises of happiness that lead only to misery
Inspire a renewed resolve to live the Beatitudes through video profiles of real-life people living the Beatitudes in their everyday life.
Featuring teaching videos by Fr. Jeffrey Kirby, and powerful profiles of normal people living out the Beatitudes in heroic ways, Kingdom of Happiness will not only inform participants about the Beatitudes, it will show them the way to living them and achieving true happiness.