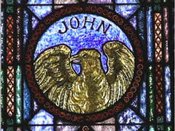 "I am not a Catholic by accident or by culture or by inertia: I am a Catholic by conviction. I believe that contained within the very act of faith in Jesus is the Church, and that it is impossible to have Jesus, in individual isolation, without the Church." - Ralph Martin
Then they said to each other, "Were not our hearts burning (within us) while he spoke to us on the way and opened the scriptures to us?" Luke 24:32
Faith Formation at St. Patrick consists of multiple areas of study for adults.
A Bible Study is available to all parishioners and is held in the conference room beginning at 8:30 each Sunday morning.
Those who wish to learn more about the Catholic faith may join in the RCIA classes beginning the in Fall of each year. See the RCIA section for more information.
Even Vacation Bible School has a place for our adults! This is normally held during the month of July each Summer. Watch the calendar for more information and the current date scheduled.
Pillar of Fire, Pillar of Truth
Is a tract published by Catholic Answers that is a great evangelizing tool.
Follow this link to read. Pillar of Fire, Pillar of Truth
The Faith Enrichment study group meets every Sunday morning at 8:30 am in the conference room.
A 10 week study will begin the year entitled "CHRIST 101" authored by Classical Theist. Led by Scott Sullivan, a noted evangelist, it promises to be fast paced and "The Complete Politically Incorrect Guide To Defending The Christian Faith Using Reason And Evidence".
Donuts and Doctrine
Every Wednesday night in the Saint Joseph Hall at 6:30pm
Donuts and Doctrine meets on the same Wednesday nights that Faith Formation meets.
What is Donuts and Doctrine you ask?
Donuts and Doctrine is a study of Catholic doctrine and traditions, primarily through videos that will explore a variety of topics. Discussions and questions will be welcomed, but not required. Hopefully, an easy and painless way to learn more about our faith.
We will debut this group with the series CATHOLICISM. This is an award winning series by then Fr Robert Barron (now auxiliary Bishop) that was featured on PBS stations across the country several years ago. This is a 10 episode program that explores Catholicism, and its basic tenets, in a fast paced and exciting format, across the globe.

"Journey around the world and deep into the Faith in breathtaking, high-definition cinematography. The beauty, goodness,and truth of the Catholic Faith are illustrated in a rich, multimedia experience in more than 50 locations throughout 15 countries."
Whether you meet with us on Wednesday evenings or Sunday mornings, we cordially invite one and all to meet with, and explore with us together this fall.