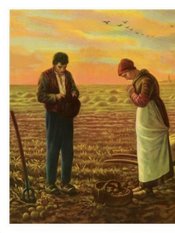 The Angelus by Jean-Francois Millet
Beloved: Sanctify Christ as Lord in your Hearts. Always be ready to give an explanation to anyone who asks you for a reason for your hope, but do so with gentleness and reverence, keeping your conscience clear. 1 Peter: 3:15-16
Faith Formation / Faith Enrichment at St. Patrick consists of multiple areas of study for adults.
Those who wish to learn more about the Catholic faith may join in the RCIA classes beginning the in Fall of each year. See the RCIA section for more information.
Donuts and Doctrine is a study of Catholic doctrines and traditions, primarily through videos that explore a variety of topics. Discussions and questions are welcomed but not required. An easy and painless way to learn more about our faith.
Whether you meet with us on Wednesday evenings or Sunday mornings, we cordially invite one and all to meet, and explore with us together.
The Faith Enrichment study group meets every Sunday morning at 8:30 am in the conference room.
As 2019 begins we will continue the series The Bible Timeline, by Jeff Cavins.
In total there are 23 sessions, and we will start with session 13 when we restart January 6th. We meet at 8:00 am in order to complete each session on time for Mass.
What can you expect?
Central to The Great Adventure is The Bible Timeline Chart: a simple, color-coded timeline of Bible history. It divides the entire timeline into 12 color-coded periods and then focuses on 14 books that tell the story in chronological order.
Key people and events that advance the story are highlighted so that the newcomer isn't overwhelmed with too much at once. The Bible Timeline Chart and Bookmark show at a glance where every book of the Bible fits into the overall narrative context.
Read 14 narrative books of the Bible and discover the amazing story woven throughout Scripture
Learn how the key people, places, and events in the Bible fit together to reveal God's plan for humanity
Study the Bible from a Catholic perspective and see how our faith is rooted in Sacred Scripture
See how the events in the Old Testament are fulfilled in the New Testament by Christ and the Church
Gain a greater appreciation for the Scripture readings you hear during Mass
See how God reveals himself to us through Scripture and learn how God's Word applies to your life today
Develop a life-long hunger for knowing God in his word and lay a strong foundation for further Bible reading and study
Each session's DVD presentation is approximately 50 minutes long and may require an earlier start on Sunday mornings!
Donuts and Doctrine
Every Wednesday night in the Saint Joseph Hall at 6:30pm
Donuts and Doctrine usually meets on the same Wednesday nights that Faith Formation meets.
Doughnuts and Doctrine will start up again on Wednesday january 9th.
What is Donuts and Doctrine you ask?
Donuts and Doctrine is a study of Catholic doctrine and traditions, primarily through videos that will explore a variety of topics. Discussions and questions will be welcomed, but not required. Hopefully, an easy and painless way to learn more about our faith.
New Donuts and Doctrine video series announced for February 2019

Queen of Heaven, narrated by Leonardo DeFillipis, will be shown beginning February 13, 2019 at 6:30 pm

Come join us on Wednesdays in the St Joseph Hall.
All are invited and welcome!