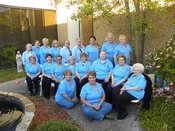 Join us! (click for larger image)
The Ladies Auxiliary of Knights of Columbus Council 10567 invite you to join us for one of our monthly meetings.
The Auxiliary is open to all Catholic women 18 years of age or older, married or single. It is not necessary that your husband, father or brother be a member of the Knights of Columbus in order for you to join the Ladies Auxiliary. Our meetings are open to all ladies of St. Patrick and St. Stanislaus churches.
We meet on the 1st Thursday of every month from August thru June. We meet together in the St. Joseph Hall at 6:30 pm, eat a meal together and share fellowship with each other. At 7:00 pm, our meeting starts.
The Ladies Auxiliary is another way to serve our Christ, our church, and each other. We pray together, work together, and laugh and have fun together. All through the year, we give support to different church events, and support the Knights of Columbus with some of their projects.
Please consider visiting one of our meetings.