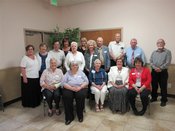 Our Faithful Team (click for larger image)
The Society of St. Vincent de Paul offers assistance to those in our community who have a need for day-to-day living. Our organization meets twice a month and periodically conducts fundraisers to raise money which helps to facilitate this ministry. Our parishioners support our ministry through donations of non-perishable foods and other items, monetary contributions and support of our fundraisers.
Visit the other sections of our website such as our calendar, photo album and news to learn more about this ministry at St. Patrick's. Learn more about the mission of the Vincentians by visiting the national website.
From Oct 1st thru Aug. 5th, because of your generous support, the following has been accomplished:
73 sets of groceries (valued at $9,125) have been distributed
$12,473.08 has been used to pay utilities or rent, including helping with funeral costs. Some of the payments were made on behalf of members of our Parish.
We have also been able to provide household furnishings to a needy family with 3 children. Our outreach has touched 48 families since the beginning of 2017.
Without your generous support, this would not have been possible. Please be as generous as your means will allow helping us continue this needed ministry.
Please pray that our economy will improve, making it possible to these families to be independent.
Thank you to the parishioners of St. Patrick & St. Stanislaus parishes for your generosity.
Amazon will donate a portion of any online orders to our organization. Simply click the icon below when you order and the proceeds for their donation will automatically be computed and transferred to our account!