Celebrating Fr. Vernon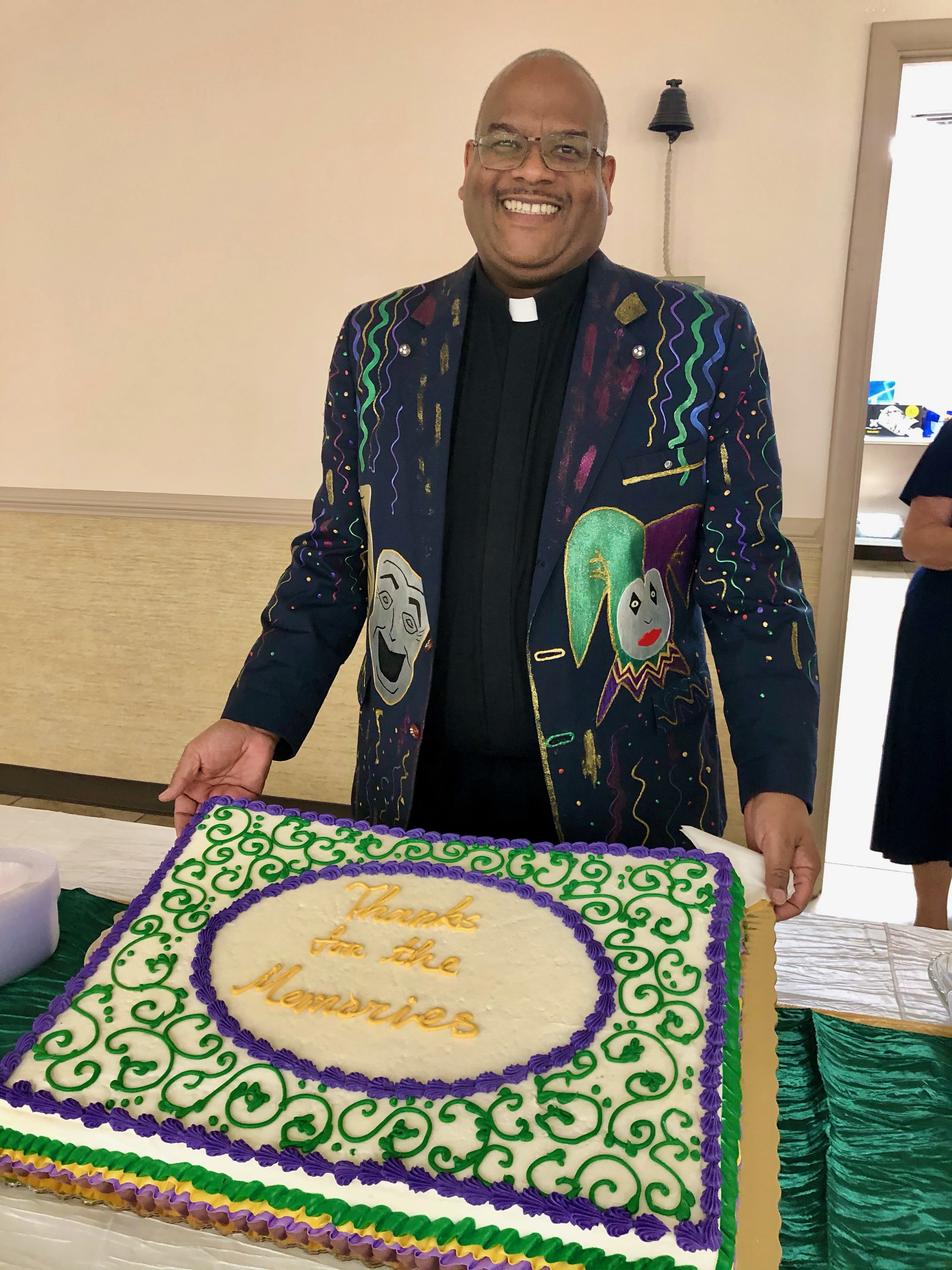 ---
St. Patrick Pastor Father Vernon Huguley celebrated Holy Mass on Sunday, October 4, 2020, marking the final weekend for his term as our pastor.
Despite the pandemic and our strict practice of social distancing and mask-wearing, we had a larger than usual crowd at the 10 a.m. Sunday Mass, It was quite the send-off for our pastor of 12 years.
The scripture readings and the entire liturgy resounded with a clear message of trust in God. In the second reading (Phil 4:6-9), Paul wrote:
"Have no anxiety at all, but in everything, by prayer and petition, with thanksgiving, make your requests known to God. Then the peace of God that surpasses all understanding will guard your hearts and minds in Christ Jesus."
Then, the Gospel Acclamation (John 15:16), proclaimed "I have chosen you from the world, says the Lord, to go and bear fruit that will remain."
These scriptures served as a timely reminder that God has chosen Father Vernon to continue his ministry by serving a different parish and nurturing the faithful at St. Peter the Apostle in Hoover.
Father was treated to a few surprises both before and during the Mass. First, numerous altar servers chose to serve with him one final time on the altar. Led by Jeffrey Blanchard, who served with Father Vernon at his first Mass on June 8, 2008, these young people greeted Father just prior to Mass dressed in their vestments, incense bowl active and ready to process with him into Mass. Father was delighted to be joined by these young servants of God.
Clearly emotional from the opening remarks and prayers, Father continued with the liturgy and shared a wonderful message with the congregation based on the readings and his personal reflections on his time with us. He encouraged us to pray in challenging times. Following the homily, he processed through the aisles and blessed the parishioners with incense. He also sprinkled the congregation one final time just prior to the final blessing while the small choir, led by Director of Music and DRE Janet Rubino, sang Gather at the Water.
Immediately following Communion, Kevin Whitaker, who established the basketball program and manages the annual Shamrock Classic, presented Father Vernon with a special plaque that expressed the group's gratitude for his consistent support of their program. But the surprises weren't quite done. Father sat on the steps of the altar as he was presented the words of a special song written and sung by Dale Blanchard. Dale was accompanied by Janet and the small choir members harmonized on the chorus. Before the song was over, everyone was on their feet singing the refrain "Father Vernon, Father Vernon!" Father was very touched by all the special surprises for this, his last Mass with us.
As Mass came to a close, he shared some final thoughts.
"All I can say to you is thank you for your love, thank you for your support, thank you for your prayers and for your encouragement. All of those things have made us who we are and whose we are because God has made us all for a purpose."
He continued by quoting the tin man in the Wizard of Oz: "I know what a heart feels like because my heart is breaking. So I thank you and I love you. I will pray for you as you pray for me. God's peace be with you."
There was a reception in St. Joseph Hall on Sunday afternoon hosted by members of the social committee. Those attending signed up in the weeks prior for half-hour time periods to facilitate proper social distancing and sanitizing in between groups. It was a wonderful day with many well-wishers both at Mass and the reception.
Click through the image gallery below to view a few of the images from the Mass. You may view the words to Ode to Fr. Vernon written by Dale Blanchard by opening the file (in PDF format) below. All photos taken may be viewed and downloaded from a OneDrive account by clicking here.