St. Vincent de Paul Update: Prayer Box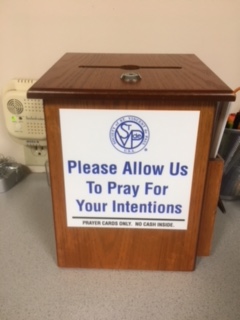 ---
Because of the generosity of St. Patrick and St. Stan's parishioners, SVDP would like to show our appreciation by praying for your prayer intentions.

This past fiscal year, that ended 09/30/19, SVDP paid $25,500 in helping our friends in need. We also provided 6,900 lbs. in food as well. Although we received a $5,000 grant from a national foundation, this would not have been possible without your generosity.

We are putting a Prayer Box in the Narthex for you to place your intentions. The box is locked so your intentions will be kept private. At every meeting, we will bring the box to the meeting and pray for all the intentions inside the box. Intention cards are located in the holder on the side of the box. Please put the date on the top of the card and then you can check one of the common intentions listed or you can write your personal intention in the space provided. Your intentions will remain in the box for six months. This is so we can keep the intentions rotated, as well as make room for new intentions. Know that an intentional time is being reserved to pray for your intentions.

Please accept our gesture of appreciation for your support of this much-needed ministry. Know that your prayer intentions will be prayed for on a regular basis. Thank you for letting us give back to you.