Margaret Pender Receives Knights of Columbus Colombo Service Award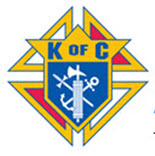 ---
St. Patrick Knights of Columbus Council 10567 is proud to award St. Patrick parishioner Margaret Pender with its prestigious Colombo Service Award.
The Colombo Service Award, which was instituted in 1995 and named after charter member Lou Colombo, recognizes a parishioner for his or her lifetime of service to church, community and diocese.

Margaret joins a long list of people who have received this honor. None have been more deserving.

Margaret grew up in Wylam with three sisters and one brother. She attended St. Anthony's and graduated from John Carroll High School. Margaret is part of one of St. Patrick's founding families, the Majerik family. She made the journey to St. Patrick from St. Stanislaus, to St. Raphael, to St. Catherine and then to St. Patrick.

Margaret was married to Jimmy Pender for 43 years before he sadly passed away in 2011. They have two children, Andy and Amy, and nine grandchildren.

Margaret's list of service to St. Patrick is a long one: Springfest, Ladies Auxiliary, Sacristan, Choir, Finance Committee, Social Committee and Bereavement Committee. Those who have worked with her can attest to the countless hours she spends with the St. Patrick Yard Sale fundraisers over the years, working behind the scenes tirelessly to make that fundraiser a success. How many people even know that she is the one who drives that successful project?

Margaret said she loves St. Patrick because it is a big, extended family. "Such a concentration of great people," she said, "easy to work with and I have made so many friends over the years."

For her lifetime of dedication to this Parish, for her example, for her friendship to all, Council 10567 is proud to honor Margaret Pender with the Knights of Columbus Colombo Service Award.