McCahill Smith Elected Knights of Columbus Council 10567 Grand Knight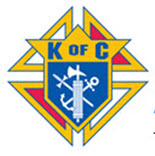 ---
St. Patrick Knights of Columbus Council 10567, now in its 30th year, unanimously elected McCahill Smith to serve as Grand Knight for the 2021 - 2022 fraternal year.
Elections were held during the Council's June meeting.
Other officers elected are:
Jeff Blanchard, Deputy Grand Knight
Anthony Brooklere, Chancellor
Doug Blanchard, Warden
Tim Rigsby, Inside Guard
Joseph Conte, Outside Guard
Joe Schober, Recorder
Todd Wellborn, Treasurer
William Boone, Advocate
Don Byrd, Three-Year Trustee.
Other non-elected or appointed offices include:
Father Anthony Weis, Chaplain
Larry Cannon, Financial Secretary
Don Cannon, Lecturer
James Nelson, Two-Year Trustee
Mike Wehby, Jr., One Year Trustee.
The new officers will begin their term on July 1.
Congratulations to McCahill and all the new officers.
A special thank you to outgoing Grand Knight Don Byrd. Despite a pandemic that presented a unique and daunting challenge, Don guide the Council through it with exceptional leadership and faith.