Reception Honors Doris Moody for Legacy of Service to St. Patrick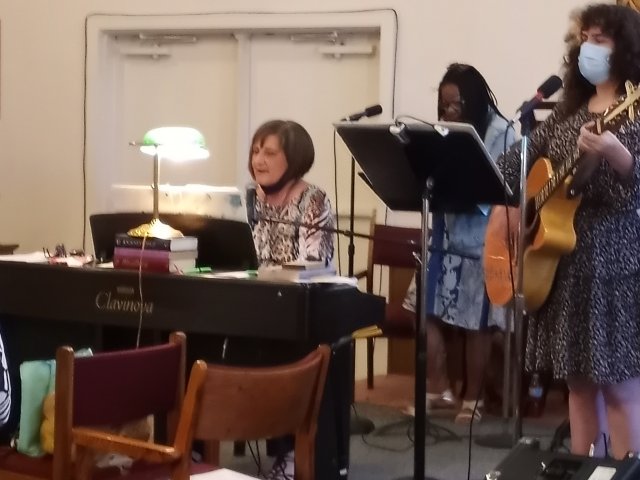 ---
For her lifetime of service, longtime St. Patrick parishioner Doris Moody was honored at St. Patrick on Sunday, September 26 with a reception after Mass in the St. Joseph Hall.
The reception was organized by Patsy Byrd and Danny Bradley served as spokesperson, delivering a wonderful tribute to Doris to those in attendance.

Doris Moody's contributions to St. Patrick can never be measured.

In 2014, St. Patrick Knights of Columbus Council 10567 honored Doris with its Colombo Service Award, honoring a St. Patrick parishioner for a lifetime of service to church, the diocese and the community. The award was named in honor of Lou Colombo, a great music minister and one of the founding fathers of the Knights Council.
Ironically, it was Lou Colombo who asked Doris to learn to play the piano for a "Nifty Fifties" program that the choir was putting on many years ago. She had only taken organ lessons and had never played the piano. But she honored his request as she has honored the requests of so many of us so many times down through the years.
As Danny Bradley so aptly put it during the reception, Doris always said "Yes" to a service request.
Doris and her husband Eddy were founding members of St. Patrick and raised three sons, Matthew, Jonathan and Daniel at this church. They now also have five granddaughters.
Doris's service extends far beyond St. Patrick.
She served on the Board of Directors of John Carroll Catholic High School from 1996-2002 and, through her company, SchoolinSites, was instrumental in providing a free web site to the 27 schools in the Catholic Diocese of Birmingham.
She is a Founding Member of the Board of Directors of the Laura Crandall Brown Cancer Foundation and has worked on the organization's newsletter, event planning, web site, and social media. Doris continues to be active with the Foundation, particularly in the area of awareness presentations and doing media work for one of its largest fundraisers, the Head Over Teal 5K/10K event. She also coordinates registration and packet pickup for Head Over Teal.

At St. Patrick, her list of areas of service is endless: Her music ministry began at age 8 at St. Anthony's and she has provided music ministry all these years at weekend masses, weddings, funerals, and special events. She developed and implemented a state-of-the-art web site for St. Patrick and continues to maintain its content and improve its effectiveness. She has been our "unofficial" photographer and videographer and has been active and a key figure at just about every major parish function over the years.
This is only a partial list of the legacy of service that Doris has provided to her faith community. For more than 40 years, she has ALWAYS been present. Doris has been there for her church, her diocese, her community, her family, and for her friends.

There is a famous quote from Sir Isaac Newton that people constantly use to describe great people. To paraphrase that quote, "if I have done great things it is because I have stood on the shoulders of giants." We are all proud of the great things we have done as part of St. Patrick over the years. But if we have done great things it is because we have stood on the shoulders of the many "giants" who have graced our parish walls. And Doris Moody is certainly one of those great giants. All we had to do was stand on her shoulders.

Doris, for your service, for your example, for your spirituality, for your friendship, for your love, we all thank you for what you have done for us over the years. You are a treasure.