Knights of Columbus Council 10567 Serves Dinner at First Light Women's Shelter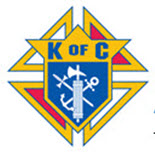 ---
Members of St. Patrick Knights of Columbus Council 10567 delivered food to the First Light Women's Shelter on Sunday, May 24, 2020.
Knights prepared the food and served the meal that included fried chicken, potato salad, green beans, baked beans and banana pudding.
"I want to thank everyone who volunteered to prepare and serve food," Grand Knight Don Byrd said. "Serving at First Light has become a service project that we look forward to and we plan to continue doing it in the future."