Annual Knights of Columbus Mass of Remembrance Honors our Deceased Knights and Ladies Auxiliary Members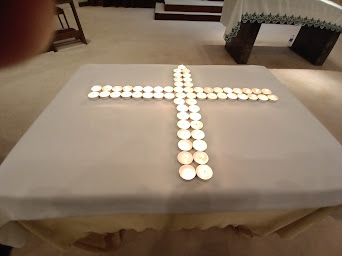 ---
St. Patrick Knights of Columbus 10567 held its annual Mass of Remembrance on Monday, November 8 at St. Patrick, honoring 50 deceased Knights and 12 deceased members of the Ladies Auxiliary.
St. Patrick Pastor and Council Chaplain Father Anthony Weis celebrated the Mass and music was provided by St. Patrick musicians Pam Ganus and Grand Knight McCahill Smith.
After Mass the names of the deceased were called out and a candle lit in their honor.
Deceased Members of the Ladies Auxiliary
Eileen Smith
Mary Carol Martin
Camille Von Hagel
Freddie Canoles
Louise Meadows
C.D. Day
Barbara Rucker
Catherine Barrett
Sandy Von Hagel
Lois Bradley
Cathie Barron
Nino Odgers
Deceased Brother Knights of Council 10567
Lou Colombo
David Vines
Louis N. Muro
Charles Perryman
Rick Thomas
Art Bobo
Ben Leo
Paul Leonard
Jerome C. Bradley
Steve Sullivan
William O'Neill
Sonny Sorrell
Cruz Wathen
Benny C. Bakane
Harwell C. Melton
Albert Duchock
Joe Wallace
Pat Rosato
Paul Grefsheim
Joseph Russo
Steve Sokira
Norman Gugliotta
Jimmy Pender
Earle Canoles
Jake Grainger
Jim Milko
Greg Skocik
Mike Hobe
Steve McArdle
Tony Rubino
Floyd White
Jessie White
Bernard Von Hagel
Jerry Hinton
Joe Dush
Michael Jones
Charles Blanchard
Ernest Blankenship
Don Thompson
Gaeton Conte
Phil Slovensky
Don Meadows
Terry Jackson
Frank P. Alfano
Gerald Kiker
Charles Perricotti
Joseph A. Puccio
Karl Wise
Mickey Thomas
Michael Vendt
Eternal Rest Grant Unto Them O' Lord
And Let Perpetual Light Shine Upon Them