Ladies Auxiliary Sponsors First Bingo Since Pandemic Began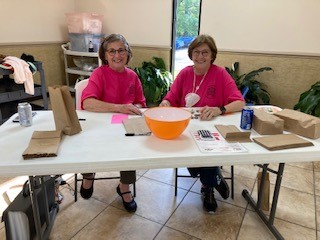 ---
On April 24, 2021, the Ladies Auxiliary sponsored the first Bingo since the pandemic started. This has always been a popular family-friendly activity and this past Saturday was no exception.

Bingo was attended by more than 50 players, ranging in age from 3-years-old to 80+. If you can judge by the laughter and excitement in the area, everyone had a great time.

In the usual "Bingo" tradition, the Ladies served up hot dog meals (for $5) which included a hot dog, chips, drink, and dessert. There were 18 door prizes awarded and John Majerik won over $100 in the 50/50 drawing. It was a fun night enjoyed by all.

The St. Patrick Ladies Auxiliary of Knights of Columbus Council 10567 was established in April 1999. The Auxiliary's primary mission is to help the Knights, when needed, in their endeavors. We also consider it our mission to contribute our time and talents to the needs of the parish and to be an encouragement, as well as, a "light of Christ" to each other. As a group, we strive to promote our Catholic faith with strong prayers and create warm friendships as we work together to fulfill God's mission here on earth.
Check out the photo gallery for more pictures. And stay tuned for more information about the next Bingo!