Knights Give Out Annual Knight of the Year and Family of the Year Honors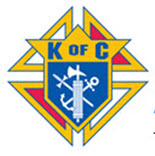 ---
St. Patrick Knights of Columbus has named Jeff Blanchard as its Knight of the Year and Don and Patsy Byrd as its Family of the Year for fraternal year 2020-2021.
The presentations were made after Mass on Sunday, June 27 at St. Patrick.
Don and Patsy Byrd are founding members of St. Patrick who have built a wonderful legacy of Catholic family life. They were married at St. Catherine in 1976 and have two children, Amy and Joseph, and eight grandchildren.

Don spent almost 30 years in the military, forcing he and Patsy to live all over the world. When it came time for him to retire, they decided to come home, and that meant coming home to St. Patrick.

Don is a charter member of our Knights of Columbus Council and has served in various positions over the years. He is currently completing a two-year term as Grand Knight, leading us through the pandemic in a way that made sure our Council stayed strong and true to its principles. Don has recently joined the Maintenance committee, serving this church in yet again another capacity.

Like many, Patsy has served St. Patrick in almost every area. She was a cantor, has worked with the social committee and currently is an assistant with religious education and the First Communion class. She was an Adult Leader with SPIRIT for many years, starting the Fun Friday program, which later became Kids of Hope. She started the first SPIRIT youth choir and led them when they sang for Pope John Paul II in Denver, Colorado in 1993.

How fortunate to have two Catholic examples like Don and Patsy in our parish? They are two people who are loved by everyone.

With love, respect and admiration, we honor Don and Patsy Byrd as this year's Knights of Columbus Family of the Year.

Our Knight of the Year is Jeff Blanchard, a young man who was born into this church as part of one of our greatest families, the Blanchard family. He is the son of Dale Blanchard and the grandson of Charles Blanchard.

Jeff and his wife Tara have two children, Waylon and Charles.

He has been involved in the Catholic faith his entire life, from the SPIRIT Youth group here at St. Patrick to participating in student ministry at UAB and Alabama. At Alabama he was involved in the formation of a Knights of Columbus College Council at St. Francis Parish.

As Faith Director of Council 10567, Jeff has led us back to our faith-based mission. He has organized two spiritual retreats, the quarterly Holy Hour and Adoration program, and the Into the Breach and Building the Domestic church programs. He organized a St. Patrick parish outing at Camp Tekawitha while working for the Office of Youth Ministry in the diocese.

As a Knight Jeff has served as Warden, Chancellor and will be our Deputy Grand Knight for the upcoming fraternal year. He loves the Catholic faith and is always looking to grow in it. He is currently learning to be an altar server for the Latin Mass.

Jeff mentions Kevin Whitaker as a person who has been a big influence on him over the years.

For his service, for his faith and for his leadership, it is with great pride that we present Brother Knight Jeff Blanchard with our Knight of the Year award.