Follow the Star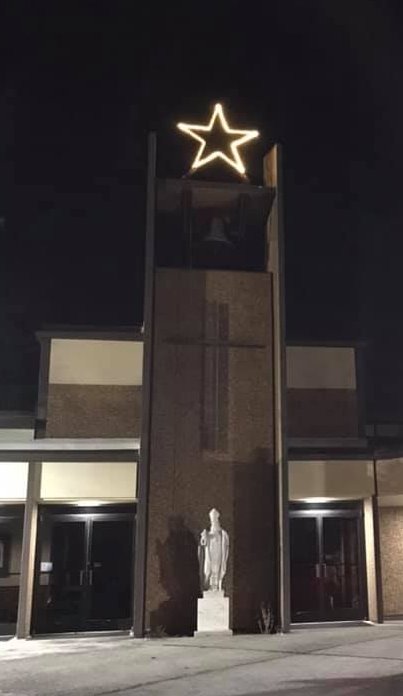 ---
The Honorable Steven Raica recently declared the new liturgical year as the Year of the Parish. Despite the need to issue dispensation from attending Mass, Bishop Raica is working to reinforce the bond of the parish family and the need to honor and respect the importance of Eucharist at our celebrations of Mass.

In accordance with the Christmas season, the Diocese requested that churches in the Birmingham diocese observe this initiative by placing a star on the church premises and establishing the hashtag on social media of #followthestar2020. St. Patrick was recently featured on the Catholic Diocese of Birmingham's Facebook page and in the One Voice publication because of our longstanding tradition which goes back for over 20 years.

So how did the Star that perches at the top of our church become a part of our parish all those years ago?

The Christmas Star, which remains a tradition, was built by parishioner Bryant Collins many years ago in accordance with Knights of Columbus Council 10567's effort to join with councils across the nation to "Keep Christ in Christmas". Over the years, the star has been lit annually as a part of a special prayer service on the patio of the church following Mass celebrating the Feast of the Immaculate Conception on December 8th. Deceased parishioner Gaeton Conte, who played a vital role in assisting with the set-up of the star each year, was key in ensuring that the lighting ceremony took place each year.

The Christmas Star lighting ceremony at St. Patrick each year is designed to commemorate Christ's birth and to remind everyone that Christmas is a Holy season. Deceased parishioner J.C. Bradley was the one who established the idea. For several years, the star was lifted up and down but in 1999, hinges were placed on it so it could be laid down on top of the roof of the church. At this time, it was put on a timer and each year, the star is raised up just prior to December 8th in preparation for the seasonal lighting.

Parishioner Rob Smith, cousin to J.C. Bradley who established the effort, continues to work each year to ensure the tradition continues. "It's very humbling to me to be a part," he said. "I am happy to be able to help carry on this tradition."

St. Patrick's is proud to be a part of Bishop Raica's "Follow the Star" initiative.