Announcing: Our Gaeton Gotcha' Board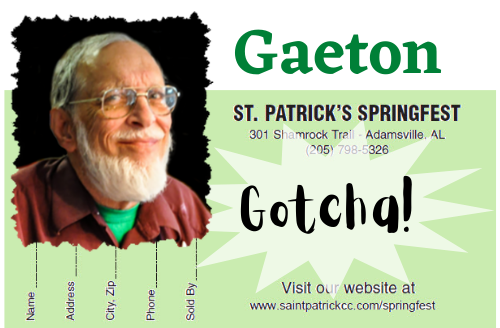 ---
This year we are launching our new "Gaeton Gotcha' Board" in honor of our dearly departed, Gaeton Conte. Gaeton was a staunch supporter of St. Patrick's and so many other parishes and efforts throughout the city of Birmingham. He worked tirelessly at our church in so many areas, including helping the poor, but one of his proudest roles was that of selling our Springfest raffle tickets. Therefore, his name and his dedication to our annual fundraiser will be fondly remembered as participants "adopt" a number from our board.
This year, adopt a number and win! Everyone wins a prize (some big, some small) so join in the fun and support our parish.
Our goal this year is $30,000 and the grand prize drawings will be held on September 12, 2021.
Let's all work together to meet our annual fundraising goal!
Click the image below for full details including the rules, a flyer, some of the prizes you may win, and a link to our generous sponsors!