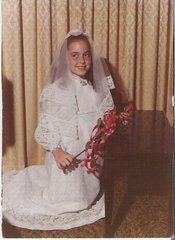 Lisa Taylor in her First Communion dress
I remember the day I received my First Holy Communion. It was the Feast of Pentecost 1976. I had just turned 10. I received my First Communion at St. Raphael's Catholic Church in Graysville, Alabama and the Priest was Father Van. I was a recent convert, who had been baptized at Easter. I had spent months faithfully studying one-on-one with my Catechism teacher Ann Beals. She was an older lady, who had never been married. I remember her smile and how kind she was to me. I knew she was different-in a good way. She prayed a lot and wore a small veil on her head at Mass. She was also very devoted to Our Lady of Fatima and she said the rosary everyday. She taught me how to say the rosary and she met with me weekly to teach me about the Faith from my Baltimore Catechism. I still have that book, with my child-like answers written in the blanks. I still have the Act of Contrition card she gave me and a beautiful card she wrote to me on that special day. She said I was "a Bride of Christ" and that I would always belong to him. I treasure all these items and sometimes I cry when I read them. But most of all, I treasure the Faith that she handed on to me. She has long since passed away, but I think our paths were destined to cross. Along with my Parents and Godparents, she gave me so much. I think she would be happy that I am a First Communion teacher.
As the children of St. Patrick prepare for their First Holy Communion, I think we should all pause and think back on that special day for us. Do you remember that day? Do you remember what Church? Do you remember the Priest? Do you remember what you wore? And more important, do you remember how you felt? As children, we probably didn't fully realize the meaning of that special day, but we did feel important and special. We knew something great was happening, because we were dressed in our best clothes, our families were taking pictures and we were given gifts and maybe a party. And if you were a girl, you got to wear a veil, like a BRIDE! I remember thinking I was beautiful! We were presenting ourselves before the King of Kings as spotless and innocent children. And if you received your First Communion as an adult, I'm sure you can remember that special moment with even greater clarity. After months of prayer and study-what joy, to finally receive the Lord in full Communion with his Church! What if we could rekindle that special feeling each time we receive Christ at Mass? I think we can. Start to immerse yourself in all things Catholic. Go to Mass, go to confession, visit our Lord in Adoration, read the words of Jesus in John, chapter 6 and reflect on what Jesus was saying. "Unless you eat my flesh and drink my blood, you have no life within you." WOW-what a statement! And some people just couldn't accept this and they left him. Are we leaving or are we staying?
I have a book about Pope John Paul II and I love to look at the picture of his First Communion day, he was so young and full of potential. He could have grown up to be anything or anyone. He certainly didn't know he was going to be John Paul the Great! I would like to include more First Communion stories in this section. If you would like to share yours, please send me an email at dherty4@aol.com.
Please pray for our children, catechumens, and candidates as they receive Jesus for the first time. God bless, Lisa Dougherty