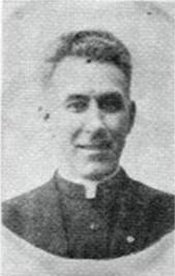 Father Alban O`Hara was Pastor of St. Catherine from 1950 - 1971

While we the parishioners of St. Patrick are busily writing our own history on a daily basis, we never lose sight of where we came from. It was from the great parishes of St. Catherine, St. Michael, St. Raphael and Immaculate Heart of Mary that we received our mission and our legacy.
Like so many Catholic Churches in America, St. Catherine in Pratt City has a proud history, a history that is filled with much tragedy and yet with even more triumph.
Longtime St. Catherine and now St. Patrick parishioner Mrs. John J. (Mabel) Wallace took the time many years ago to write down the history of the St. Catherine Church that she loved so much. We have taken Mrs. Wallace's document, scanned in the pages, and created a new document that can now stand the test of time. It is a fascinating history, filled with familiar names, and stands as a real tribute to the men and women who made St. Catherine the great Catholic parish that it was for so many years.
Did you know that St. Catherine's roots go all the way back to 1880?
Did you know that the land to build the original St. Catherine Church was purchased in 1881 from the Pratt Coal and Coke Company for "one dollar and other considerations"?
Did you know that the first school was built in 1891?
Did you know that the Church and School burned to the ground in 1917 and that the resourceful parishioners rebuilt the facilities and had a dedication ceremony in 1919?
Did you know that Sister Beatrice broke her leg after jumping from a window during a mysterious fire that destroyed the Convent in 1925?
Did you know that Father John O'Sullivan, a very popular pastor, was killed tragically in an automobile accident after being at St. Catherine just five years?
Those are just a few of the items talked about in Mrs. Wallace's document. Baptisms, marriages, Priests and Nuns who called St. Catherine home...it's all contained in this history...as well as some old and rare photographs.
We have downloaded this document in both Microsoft Word and Adobe Acrobat (pdf) formats. Just click on the link of you choice under Related Documents on this page.
Editor's Note: A "Thank You" to former parishioner Kay Allen for providing us with this document and to parishioner Shawn Allen for scanning in the pages from Mrs. Wallace's original work.