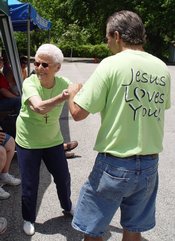 LuLu Meadows at Springfest 2008
Those who take special pride in promoting our major raffle gain entry into our premier ticket sales club. Our parish benefits tremendously from the sale of these tickets. This year we are asking all parishioners to make a special effort to sell a record number of raffle tickets. We applaud those who work hard to sell these tickets and help make our annual fundraiser such a success.
This year's drawing for the prizes on Springfest Day, Sunday March 17th, will be just like last year. We will begin at 1 p.m. and draw for our $100 cash prize winners every 15 minutes in the Dining Hall. Our grand prize of $2,000 will be drawn at the end of the day. So make sure and turn in your ticket sales by Springfest Day so that all who have purchased a chance at the prizes will be eligible for all the cash prizes.
Raffle ticket prices are as follows:
$1 per ticket
$5 for 6 tickets
$10 for 12 tickets
As in years past, we will be awarding four (4) free sheets of raffle tickets to all those who sell at least $100 of raffle tickets (20 sheets +) by March 10th We will also be awarding eight (8) free sheets of raffle tickets to all of those who reach the 40+ club by March 7th.

On Springfest day, cash prizes of $100, $75 and $25 will be awarded to the top three ticket ($) sales persons!
Springfest raffle tickets are our biggest fundraising opportunity. SELL, SELL, SELL!
Our thanks to all who work hard to sell chances for our major raffle. Our 2018 Ticket Chair is Mary K. Jones. More tickets are available so please don't hesitate to ask for more to sell.
Congratulations to all members in our 2019 $100+ Raffle Ticket Sales Club. Thanks for buying and selling your raffle tickets. Check out this hard-working group!
Special kudos to all members of our 2019 $200+ Raffle Ticket Sales Club. Click to see these champion ticket sellers.