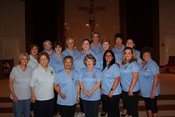 (click for larger image) Bottom row (LtoR): Monica Crocker, Sara Jean Brooklere, Betty Balcom, Anita Dempsey, Daphne Davis, Roxanne Montgomery, Tina Webb Top Row: Ann Tulloss, Pat Roden, Patti Wilson, Jimmie Chicarello, Amy Moore, Margaret Pender, Joan Marks, Hilda Willis, Desi Nelson Not pictured: Patty Wehby, Ann Rainey, Renea Vendt, Sandi Alfano, Pat Rogato, Shirley Goolsby, Debbie Brasher
The Saint Patrick's Ladies Auxiliary of the Knights of Columbus Council 10567 was established in April, 1999. The Auxiliary's primary mission is to help the knights, when needed, in their endeavors. We also consider it our mission to contribute our time and talents to the needs of the parish and to be an encouragement, as well as, a "light of Christ" to each other. As a group, we strive to promote our Catholic faith with strong prayers and create warm friendships as we work together to fulfill God's mission here on earth.
"THE BODY IS A UNIT, THOUGH IT IS MADE UP OF MANY PARTS; AND THOUGH ALL OF ITS PARTS ARE MANY, THEY FORM ONE BODY. SO IT IS WITH CHRIST". 1 Corinthians 12:12
The auxiliary is open to all women 18 years of age or older, married or single of the parish and surrounding churches. Our meetings are held on the first Thursday of each month beginning in August and go until the month of June. On our meeting night, Mass is celebrated in the chapel at 6:00 pm for both the knights and the ladies. After mass, the ladies meet in St. Joseph Hall at 6:30 and enjoy fellowship and dinner together. Our meeting commences after dinner.
Please visit our FAQ page to help provide you with more information about being a member of our organization.
Meeting "Highlights" This Year
† August – Installation
† September – Human Trafficking Speaker
† October – Patriotic Rosary for our Nation
† November – Sharing memories
† December – Christmas Party
2019
† January – Lifting up ways to start the New Year!
† February - Retreat
† March – St. Joseph, Plenary Indulgence
† April – 20th Anniversary of the Ladies Auxiliary
† May – Crowning of Mary following a special spiritual devotion
† June – Fellowship Dinner with the Knights
We extend a special invitation to all ladies to join us, as sisters in Christ, and to be a part of this special family of women as we work together to fulfill God's mission.