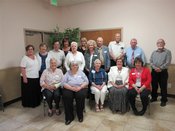 Our Faithful Team (click for larger image)
The Society of St. Vincent de Paul offers assistance to those in our community who have a need for day-to-day living. Our organization meets twice a month and periodically conducts fundraisers to raise money which helps to facilitate this ministry. Our parishioners support our ministry through donations of non-perishable foods and other items, monetary contributions and support of our fundraisers.
Visit the other sections of our website such as our calendar, photo album and news to learn more about this ministry at St. Patrick's. Learn more about the mission of the Vincentians by visiting the national website.
From October 1 thru December 1, 2019, because of your generous support, the following has been accomplished:
18 sets of groceries (valued at $2,250) have been distributed;
$719.08 has been used to pay utilities or rent. Some of the payments were made on behalf of members of our Parish.
We also provided 12 Thanksgiving Dinners (valued at $1,320). Most of these went to members of the parish.
Please view this page to get an up-to-date list of the current needs for our food pantry.
We are so blessed for the Parishioners of St. Patrick's and St. Stanislaus. Whenever we send out a request for something in need, you always come thru. Please be as generous as your means will allow helping us continue this needed ministry. With the economy improving, and jobs becoming more available, please pray that we can turn our focus onto more long term goals, such as training and budgeting.
Thank you and God Bless.
---
Amazon will donate a portion of any online orders to our organization. Simply click the icon below when you order and the proceeds for their donation will automatically be computed and transferred to our account!