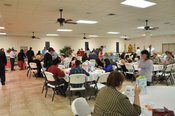 Socializing in St. Joseph Hall
Please stop by the St. Joseph Hall after Mass for a time of fellowship with your parish family. We meet after Mass on Saturday evenings and Sunday mornings. Snacks and drinks are always served.
Stay a while and get to know some new folks or catch up with some old ones!