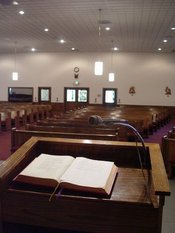 Picture yourself here!
The Liturgy of the Word is a vital part of the Holy Mass. Through the proclamation of the Scriptures and the preaching of the Word of God the Church is continually renewed and made holy. Is God calling you to serve the Church is this ministry? If so, please contact Fr. Vernon today!
Keep your eye on the website and the bulletin for an upcoming session of lector training. The seasoned lectors will be challenged to sharpen up their skills and we will also try and recruit and inspire some new readers.