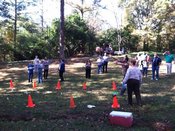 This could be you!
The weather is getting cooler, the leaf colors are changing, that can only mean one thing. IT'S TURKEY TOSS TIME.
What a great family fun event and a good way to start off the holidays. This is the 5th annual TURKEY TOSS, sponsored by the Ladies Auxiliary. Participants may enter in four categories:
Men
Ladies
Children - 10 and under
Tweens - 11 to 15
The registration fee is $5.00 for all participants.
DATE: Sunday November 4 immediately after the 10:00 Mass. (Rain date November 11th.)
Sign up in the St. Joseph Hall after the weekend Masses.
Join the fun, enjoy a beautiful fall afternoon of fun, and win cash for your Thanksgiving Meal.