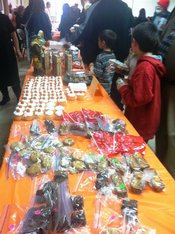 Goodies Galore!
The annual Bake Sale, sponsored by the Knights of Columbus Ladies Auxiliary, was held in the St. Joseph Hall after Masses on Saturday, November 23rd and Sunday November 24th.
Parishioners enjoyed home baked goodies during coffee and the kiddies enjoyed picking out their own special treat to go with complimentary fruit punch. There were so many wonderful home-baked delights from muffins to cookies to cakes to delicious traditional cheese rolls and more.
Ladies Auxiliary President Margaret Pender expressed gratitude to the parishioners of St. Patrick's for their support:
"We had a very successful sale and I appreciate all of the work that the ladies do to make this our major fund raiser for the year. We hope to make this a tradition at St. Patrick each year for the holidays. We all love to cook and bake so we are putting our talents to good use. The monies raised from this sale will go to support the various women's shelters and to also support any needs that we may have in our Parish. We appreciate the support of our Parish family and all of their generosity."
We are grateful to the Ladies for their dedication to giving back through the use of their time, talent and treasures.
Click here to view more photos from this and other Ladies Auxiliary events.