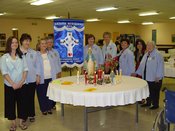 LtoR: Stacie Scott, Patty Wilson, Barbara Rucker, Jimmie Chicarello, Joan Marks, Shirley Goolsby, Patty Wehby, Theresa Petruzella and Catherine Barrett
New officers for the 2009-2010 year were installed on Thursday, August 6th, at the regular meeting. This meeting was also the celebration of the 10th year since The Ladies Auxiliary was established at St. Patrick. The meeting began with a prayer offered led by Catherine Barrett, Chaplain, followed by a wonderful meal prepared by members.
New president, Joan Marks, led the meeting culminated by a wonderful presentation reflecting memories in pictures and song of the past ten years of the organization. If you would like to see pictures, click here. (NOTE: Turn on your speakers and allow time for download as this is a large video file.)
Newly elected officers for the upcoming year are:
| | |
| --- | --- |
| Joan Marks: | President |
| Shirley Goolsby: | 1st Vice-President |
| Patty Wehby: | 2nd Vice-President |
| Jimmie Chicarello: | Secretary |
| Barbara Rucker: | Treasurer |
| Staci Scott: | 1st Historian |
| Patti Wilson: | 2nd Historian |
Catherine Barrett: Chaplain
The theme of the upcoming year is "light." Pray for this group of women as they seek to serve the community through their prayer, works and service.