The Supreme Council of the Knights of Columbus has recognized St. Patrick Knights of Columbus Council 10567 as a winner of the prestigious Columbian Award for the 2013 – 2014 fraternal year.
The award is presented for excellence in the sponsorship of programs that serve the Church, Community, Families and Youth. The announcement of the award came from the Knights of Columbus international headquarters in New Haven, Connecticut.
District Deputy Robert Rigsby presented the engraved plaque to Council 10567 Grand Knight at a special ceremony during the Council's November meeting.
In a letter to the Council, Supreme Knight Carl A. Anderson said, "On behalf of my fellow Supreme Officers and Board of Directors, please accept my sincere congratulations upon attaining this prestigious award. The dedication to the principles and aims of the Order shown by your officers and members is exemplified by the high standards of excellence you have achieved."
"May this award be a reminder and an inspiration to the members of your Council to continue to promote the ideals of Columbianism for the good of the Church, your Community and the Order. I encourage you to carry forward your enthusiasm to meet the challenges that will face the Knights of Columbus in the coming years."
Council 10567 was led in 2013 – 2014 by then-Grand Knight Greg Brasher. The Council was established in 1991 and currently has 174 members.
The Knights of Columbus is the world's largest Catholic lay organization. We are celebrated for standing in solidarity with our priests and bishops and for our unwavering support for life. We provide members and their families with volunteer opportunities in service to the Catholic Church, their communities, families, and young people. With more than 1.8 million members in more than 14,000 Councils around the world, the Knights of Columbus annually donates more than $150 million and 70 million hours of service to charitable causes.
For more information on becoming a Knight, send an e-mail to knights@saintpatrickcc.com.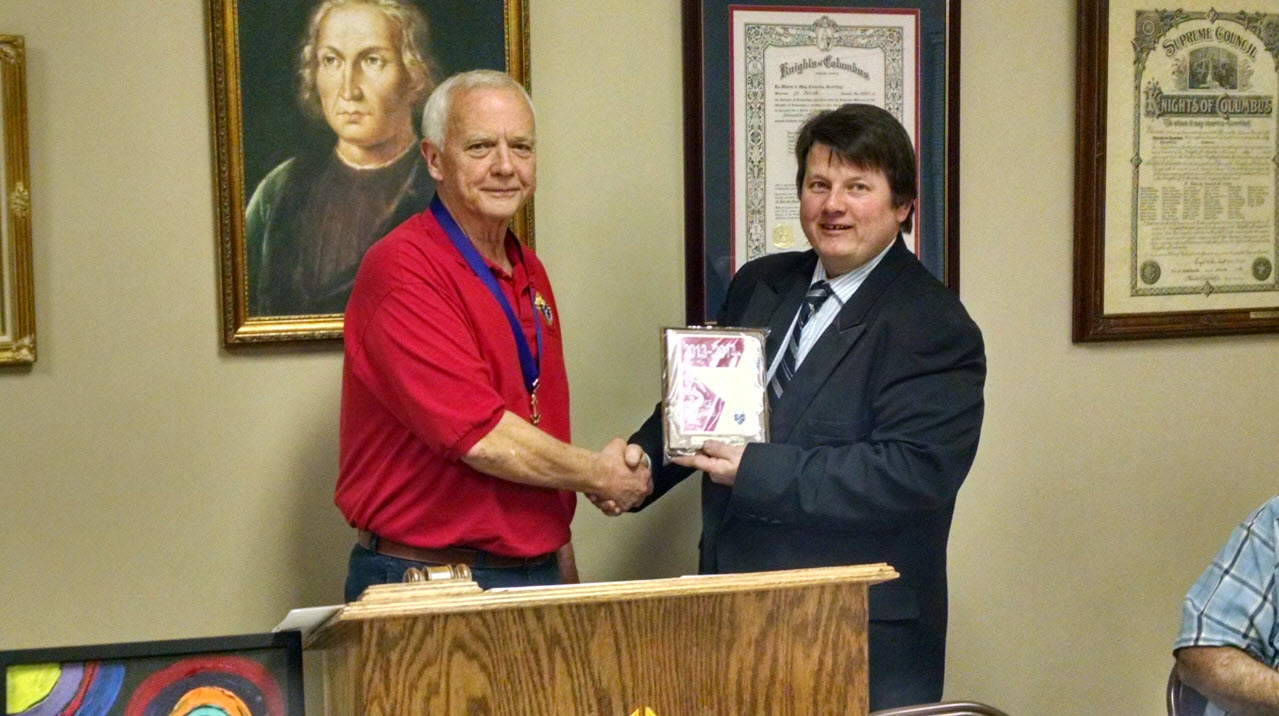 Council 10567 Grand Knight Gerald Kiker (left) receives the Columbian Award from District Deputy Robert Rigsby