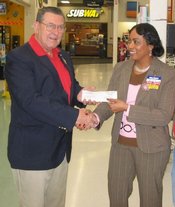 Charles Blanchard Receives Check from Wal Mart

Culminating its annual Campaign for People with Intellectual Disabilities, Knights of Columbus Council 10567 has finished distributing more than $2,000 to organizations who work with children and adults with special needs.
Council Director and Campaign Chairman Charles Blanchard organized the drive and played a big part in the Campaign being selected as the recipient of a $1.000 donation by employees at the Adamsville Wal Mart. Charles received the check from Wal Mart associate Gloria Bouyer. The check presentation was made at the morning meeting of store associates on Thursday, December 1.
The Knights presented the Wal Mart check to St. Mark Pastor Rev. Patrick P. Cullen, who is the Director of the Apostolate for Citizens with Mental Retardation in the Birmingham Catholic diocese.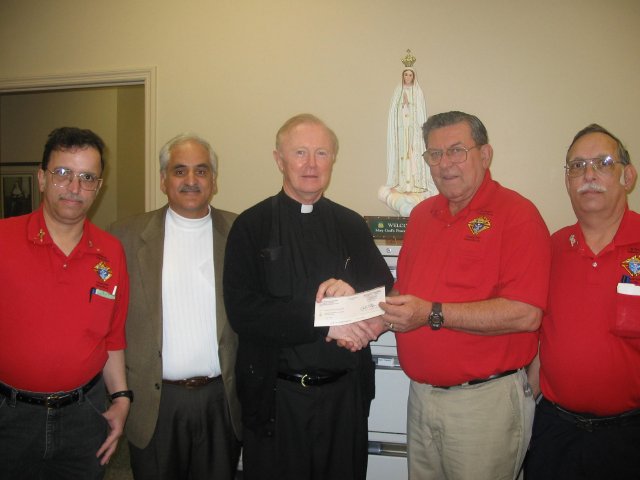 Apostolate with Mentally Retarded Citizens
Wendy Shelton, Community Coordinator at the Adamsville Wal Mart, said, "This is money made available by the associates at the Adamsville store. The associates choose from among the applicants who to donate the money to each year. We look at the needs and what we feel like is more important." Council 10567 Grand Knight Louis Muro expressed his appreciation to the Wal Mart employees. "This is an amazing gift and we are very appreciative that Wal Mart has chosen this great charity this year. It is always a humbling experience to see such generosity."
The Knights made donations to the Special Education programs at Adamsville and Crumly Chapel Elementary schools. Adamsville principal Gayle Gober expressed her appreciation to the Knights and said that proceeds from last year's drive were used to buy track uniforms for the students to wear at the Special Olympics. Special education students also participate in basketball, bowling and fishing events during the school year.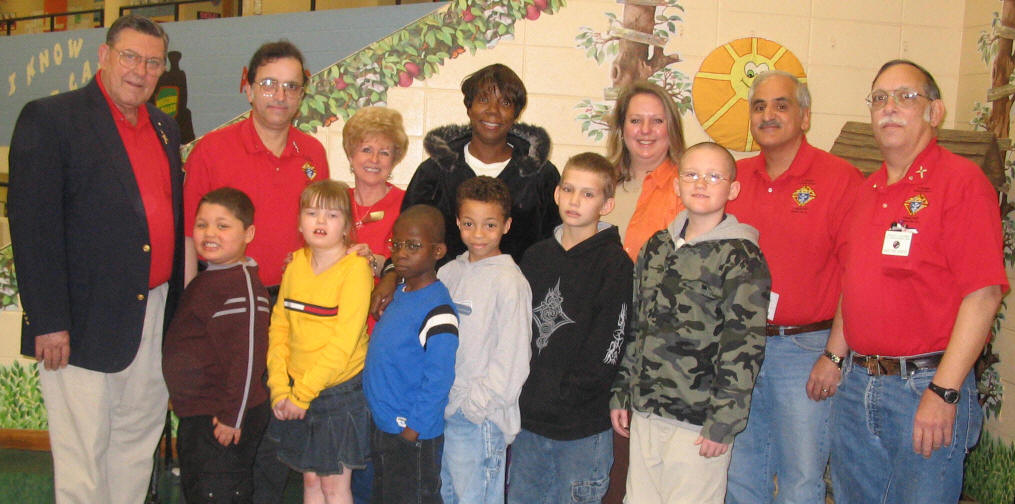 Adamsville Elementary
At Crumley Chapel, the funds were accepted by special education teachers Rhonda Whiteley and Rachael Wilkinson.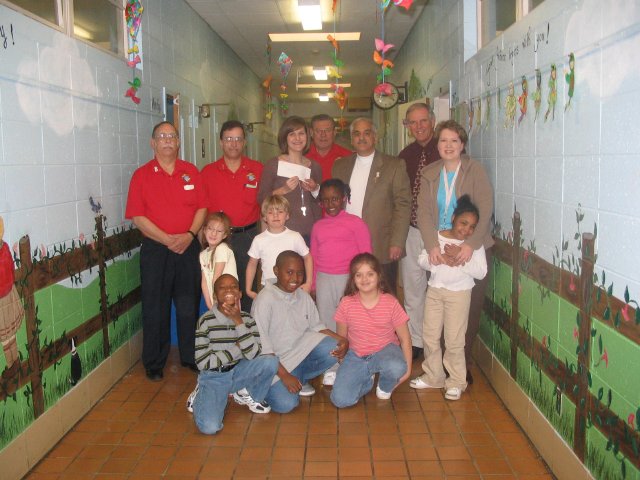 Crumly Chapel Elementary