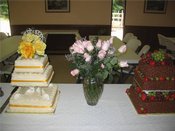 Wedding Cakes Made by Father Vernon Huguley
Fourteen couples, ranging in anniversary years from 55 to 2, renewed their wedding vows during the 10 a.m. Mass at St. Patrick on Sunday, June 28, 2009.
The event, sponsored annually by St. Patrick Knights of Columbus Council 10567, saw couples ranging in anniversary years from 55 to 2.
The Knights would like to thank everyone who made the Renewal of Wedding Vows program such a huge success. Special thanks go to Gaeton Conte for all his preparation work and to Father Vernon Huguley. Not only did Father make the groom's cake, the bride's cake and individual cakes for all the couples, he also performed an absolutely wonderful and inspiring ceremony.
Thanks also to Fourth Degree Assembly 2399 for providing an Honor Guard and to the Ladies Auxiliary for their help with the reception.
This was the fifth year of the Council's five-year plan that allowed all married couples at St. Patrick an opportunity to renew their vows and 59 couples have participated during the five years.
Congratulations to the following couples who renewed their vows this year, with a combined 417 years of marriage: Gerald and Mary Kiker (40 years); Dwight and Debbie Ingram (40 years); Larry and Ellen Cannon (45 years); Robert and Nancy Brochu (15 years); and Henderson and Yvonne Burgess (55 years) ; Anthony and Jimmie Lou Chicarello (40 years); Danny and Carolyn Bradley (40 years); Jerry and Jackie Higginbotham (20 years); Roger and Debbie Brasher (30 years); Dale and Jane Blanchard (25 years); Mike and Judy Champ (2 years); Jamey and Elizabeth Cather (30 years); Bryant and Deidre Collins (15 years); and Raleigh and Lisa Dougherty (20 years).


Fourteen Couples Renewed Their Wedding Vows