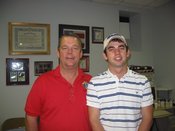 Jamey and Michael Cather
The membership in Knights of Columbus Council 10567 grew again on Tuesday, May 5 when four new members went through the First Degree ceremony.
Brian Carroll, Matthew Paul Smith, Ernest William Blankenship and Michael Cather and five men from other Councils went through the ceremony that was performed by our First Degree team. Dignitaries on hand included our own Pastor and Council Chaplain Father Vernon Huguley; State Advocate Pete Parrish; District Deputy Jack Boggan; and Field Agent Shane Duplantis. Grand Knights and other visitors were also in attendance.

Congratulations and thank you for a remarkable job to our members who performed as part of the First Degree team: Ronnie Muro (Grand Knight); Andrew Brasfield (Deputy Grand Knight); Phil Slovensky (Chancellor); Jeremy Blanchard (Financial Secretary); Charles Blanchard (Warden); Fred Deason (Inside Guard); and Rob Smith (Soundman).

Brian Carroll works at GeoMet Operating Company and has been married to his wife Krista since June 25, 2000. They have a 3-year-old son, Brayden, and they live in Kimberly.

Matthew Paul Smith is the son of our own Brother Knight Ric Smith and his wife Ann Marie. Matt is a graduate of our Columbian Squires Circle and is currently attending Bevill State Community College.

Ernest William Blankenship and his wife Connie have three children and seven grandchildren. He is retired from U. S. Steel.

Michael Cather is the son of Brother Knight Jamey Cather and his wife Elizabeth. He currently attends Shelton State Community College. Michael has the distinction of joining Chris Muro, Douglas Blanchard and Jeremy Blanchard as third generation members of Council 10567. Michael's grandfather was the late David Vines, one of our deceased Knights who passed away in 1995.
The Knights of Columbus is the world's largest Catholic lay organization. We are celebrated for standing in solidarity with our priests and bishops and for our unwavering support for life. We provide members and their families with volunteer opportunities in service to the Catholic Church, their communities, families, and young people. With more than 1.7 million members in more than 13,000 Councils around the world, the Knights of Columbus annually donates more than $143 million and 68 million hours of service to charitable causes.
For more information on becoming a Knight, send an e-mail to knights@saintpatrickcc.com.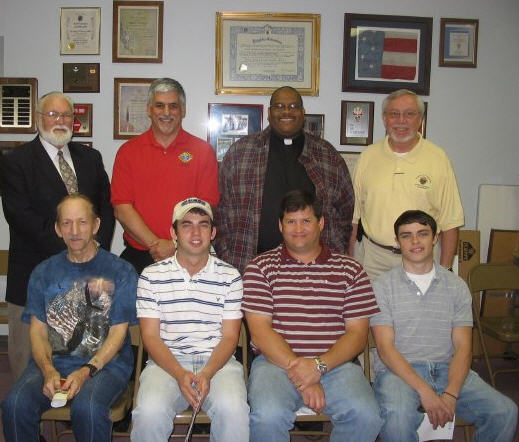 Pictured (front row l-r) are new Knights Ernest Blankenship, Michael Cather, Brian Carroll, Matt Smith and (back row l-r) are District Deputy Jack boggan, Council 10567 Grand Knight Ronnie Muro, St. Patrick Pastor Father Vernon Huguley and State Advocate Pete Parrish.