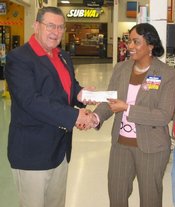 Council Director Charles Blanchard (left) Receives Check from Adamsville Wal Mart Associate Gloria Bouyer

Employees at the Wal Mart in Adamsville have donated $1,000 to St. Patrick Knights of Columbus Council 10567's annual Campaign for People with Intellectual Disabilities.
Council Director Charles Blanchard and Grand Knight Louis J. Muro received the check from Wal Mart associate Gloria Bouyer. The check presentation was made at the morning meeting of store associates on Thursday, December 1.
Wendy Shelton, Community Coordinator at the Adamsville Wal Mart, said, "This is money made available by the associates at the Adamsville store. The associates choose from among the applicants who to donate the money to each year. We look at the needs and what we feel like are the most important."
Council 10567 Grand Knight Louis Muro expressed his appreciation to the Wal Mart employees. "This is an amazing gift and we are very appreciative that Wal Mart has chosen this great charity this year. It is always a humbling experience to see such generosity.
"It is also a tribute to Charles Blanchard, who did an outstanding job as our drive chairman. Charles kept in touch with Wal-Mart and without his efforts they would have never considered our charity for this donation."
The Campaign for People with Intellectual Disabilities is held annually by Knights of Columbus councils worldwide. For more information, click here.