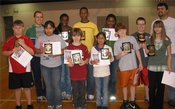 Council 10567 in Action
For immediate release:
June 6, 2008
Knights of Columbus Sets Record for Charitable Giving, Volunteer Service
(NEW HAVEN, CT) - The Knights of Columbus announced today that it set new all-time records for charitable giving and volunteer service hours in 2007.
Supreme Knight Carl A. Anderson released the results of the survey in a speech to state deputies and members of the board of directors in New Haven.
The results of the Order's Annual Survey of Fraternal Activity for the year ending December 31, 2007 show that total contributions to charity at all levels reached $144,911,781 - exceeding the previous year's total by more $1 million. The figure includes $31,235,220 donated by the Supreme Council, and $113,676,561 in charitable donations from state and local councils, Fourth Degree assemblies, and squire circles.
The survey also shows that the reported number of volunteer hours by Knights for charitable causes grew to 68,695,768 hours, up more than 400,000 hours from 2005. There were 393,030 Knights of Columbus blood donors during the year, and Knights made more than 5.5 million visits to the sick and bereaved. Cumulative figures show that during the past decade, the Knights of Columbus has donated nearly $1.28 billion to charity, and provided in excess of 612 million hours of volunteer service in support of charitable causes.
The Knights of Columbus is the world's largest lay Catholic organization, with more than 1.75 million members in the United States, Canada, the Philippines, Mexico, Central America, and Poland.