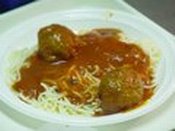 Homemade Spaghetti and Meatballs
Yes, Springfest 2008 is just around the corner. And much is going on to get ready for this, our 23rd year of Springfest.
Our recent kitchen workdays were a huge success. Our International Foods chair, Patty Wehby, was very impressed with the turnout of volunteers:
We had our first ever Saturday workday and a record turnout of 36 workers. At our recent Thursday workday, we worked a morning shift of 14 and an afternoon shift of 11. I am very excited about our current status and am looking forward to a great day of making sauce to polish off our major cooking workdays. I would like to thank all who have given of their time to help prepare our usual fare of International Foods for Springfest.
Mrs. Wehby went on to provide a full listing of the food that has been prepared in anticipation of Springfest.
We will have homemade egg rolls, Italian sausage, meatballs (which will be available in hoagie sandwiches or with our spaghetti plates), cabbage rolls, pagachi and cheese bread. And don't forget to visit our Sweet Shoppe in our Dining Room which will offer a variety of homemade deserts and treats to finish off your meal.
You can download a printable menu in advance of Springfest from this section of the website.
If you have any questions about Springfest 2008, please visit our FAQ section or contact our chairpersons, Sammy and Julie Owen.