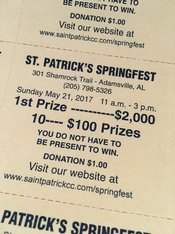 Sell your chances and win!
Springfest raffle tickets are being distributed to parishioners now. Please pick up your pack of 20 sheets (a $100.00 worth) from Gaeton Conte, ticket chairperson. We are asking that each family in the parish sell their 20 sheets.
Grand prize this year is $2,000. There are 10 additional cash prizes of $100 each that will be drawn for and awarded during our Springfest celebration.
Each sheet contains six (6) tickets. Single chances are $1. Purchase six chances for $5 and 12 chances for $10.
There are great incentives, not only in selling the tickets, but also selling tickets early.
Sell 20 sheets of tickets by May 14 and receive four (4) free sheets of chances.
Sell 40 sheets by May 14 and receive eight (8) free sheets of chances.
Top ticket seller receives $100 (awarded on Springfest day). Second place seller receives $75 and third place receives $25.
For a successful Springfest 2017, we will need the efforts of the entire parish. Let's make this year the best year in ticket sales. SELL – SELL – SELL!