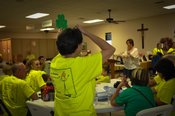 Chairperson Pam Palmer Raises her Paddle at the Auction
Springfest 32 was held on Sunday, May 1, 2016. We had a great day of food, fun and festivities including the return of our Italian feast of sausage, meatballs and spaghetti with a touch of Slovak traditional pagachi and some good ole American hot dogs to round out the menu. Our children's games, held indoors in the Raymond J. Murrin Family Life Center, were a big hit and the cake booth drew a crowd throughout the day. We were excited to add some new games this year as well as new prizes for the kids. Our merchandise table sold our "Be Like Patrick" t-shirts and wristbands for the kids' games. The plant sale featured some favorites and also offered some new plants both indoor and outdoor contributed by our parishioners. Our auctioneer, Faith Harper, did a fabulous job of generating some super bids on our one-of-a-kind auction packages. The afternoon was interesting as Fr. Vernon drew names for our 10 $100 raffle prize winners throughout the day and our grand prize winner was drawn at the end of the auction.
Our second prize $100 winners are as follows:
Jim Glover

William Boone

Sherrill Cochrane

Danny Peoples

Harold Myers

Janice Busby

Ann Tulloss

James & Jean Vines

Jim Glover

Bobby Butler
Our $2,000 grand prize winner is Trisha Guy.
Winners for the highest raffle ticket sellers are:
Gaeton Conte - $100 for selling $673 in total raffle tickets
The Very Rev. Vernon Huguley - $75 for selling $640 in total raffle tickets
Jim & Barbara Glover - $50 for selling $500 in total raffle tickets
Our auction was a huge hit. A special thank you to our auctioneer, Faith Harper, for giving of her time and talent to help our parish raise money through this effort. Our clotheline raffle ticket winner was Gwen Hallmark.
Our thanks to those who rolled up their sleeves and gave a total of 11 pints of blood to the LifeSouth blood mobile.
Thanks to all who worked so tirelessly to make this year's Springfest a success. Thanks also to those who supported our effort by attending on Sunday.
Please visit our sponsors page and click to view all those businesses and parishioners who donated to the auction.
Take a look at additional photos by clicking here.