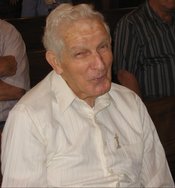 Jesus Loves You!
On Sunday, January 20th, Julie and Sammy Owens conducted the first meeting for Springfest 2008. The purpose of the meeting was to allow all committee members to meet each other and discuss preliminary plans for the upcoming event.
Sunday, May 4th, is the date for this year's event. As in years past, there will be children's games, great food and entertainment, Bingo in the Family Life Center. Back by popular demand is the Shamrock Sales where vendors can register to promote their goods and services to all Springfest attendees. Jamey Cather will be heading up this effort and is ready to take your reservations. See the Shopping link in the Springfest section of this website for a downloadable form and contact information for Jamey.
Auction items will be available for bid in advance of Springfest Day. Watch this website for more details in the coming weeks.
Parishioners will be asked to buy and sell books of raffle tickets. First prize will be $3,000 and we will have great incentives to belong to the 10-Plus and 20-Plus clubs again this year.
Brandon Yow will be heading up the Entertainment section for Springfest 2008 and we are looking for some great new acts for our outdoor stage.
The theme for Springfest 2008 is Jesus Loves You! Chris Muro is working on the t-shirt designs and has some great ideas. These and other promotional items will be found on the Limited Edition link of the website as soon as they are available.
For more information about Springfest, watch the weekly bulletin and this website. Contact your chairpersons by clicking here. We look forward to getting to know many of our new parishioners through everyone joining in this effort. Springfest is, and has always been, a "fun"raiser but we all know that it has been an effective fundraiser as well. Let's make Springfest 2008 the best ever!
And remember, Jesus Loves You!