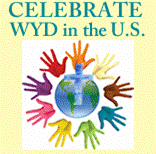 World Youth Day 2009
Celebrating and affirming the young people of our parish and the world
SPIRIT Youth will lead a parish-wide celebration on Sunday, October 25, as parishes across the United States observe World Youth Day 2009 and its theme, "We have set our hope on the living God" Our celebration at St. Patrick will begin with a Youth Mass at 10 a.m. followed by lunch for everyone.
All young people Age 0 to Grade 12 are invited to be a part of the youth procession into Mass. Please come to the St. Joseph Hall by 9:45 a.m. to be a part of the procession. Parents or older siblings are invited to accompany (or carry!) younger children, if desired. Youth are asked to sit together in the front pews of the church for this special celebration.
So that we may prepare appropriately for lunch, please sign up the weekends of October 10-11 or 16-17 to let us know you will attend, or contact Kevin Whitaker. While all World Youth Day activities are free, and families are welcome and encouraged to attend, a love offering will be requested to help cover the cost of lunch.