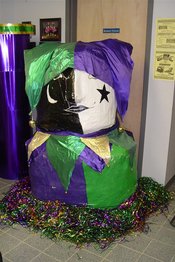 Tis the season for purple, green and gold!
The Society of St. Vincent de Paul is pleased to announce plans for its annual Mardi Gras dinner and dance. The event will be held at St. Patrick Catholic Church in the St. Joseph Hall on Saturday, February 25, after the 4:00 pm Mass. All proceeds will benefit the Society of St. Vincent de Paul and will be used to further its mission. Attendees are encouraged to donate non-perishable food items to the SVDP food bank.

Hors D'oeuvres will be served from 5:30 to 6:30 pm, with a cash bar for those who wish to purchase adult beverages. Dinner will follow and will include authentic gumbo, chicken wings, baked potato, and salad. Desserts will include traditional moon pies and King Cake.
Tickets are $25.00 per person (adults only). A DJ will provide dance music and requests are welcome. Dress is casual and we welcome your best Mardi Gras colors. In fact, we will feature a contest awarding a prize for the best Mardi Gras costume and mask. Other prizes will be awarded also. Spread the word and invite your friends and family for some local fun to celebrate the season.
For tickets, contact any St. Patrick Vincentian or email Pat Roden, President.
Learn more about our organization by visiting our website at www.saintpatrickcc.com/svdp.
St Patrick Catholic Church is located at 301 Shamrock Trail, Adamsville 35005.

More about the Society of St. Vincent de Paul
The Society of St. Vincent de Paul, a Catholic lay organization, leads women and men to join together to grow spiritually by offering person-to-person service to those who are needy and suffering in the tradition of its founder, Blessed Frédéric Ozanam, and patron, St. Vincent de Paul. Visit the national website for more background information about our society: www.svdpusa.org