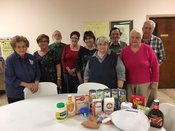 St. Vincent de Paul Society Members (click for larger image)
St. Patrick's St. Vincent de Paul Society recently took a moment for a photo op as they worked to prepare meals for 12 working families who deserved a little help to complete the traditional American Thanksgiving Feast. Although the Society often reaches out to many in the Adamsville/Graysville community, eight of those families are actually members of St. Patrick's Parish.
The meals included turkeys donated by Winn Dixie and Publix, green beans, corn, mixed veggies, sweet potatoes, flour, sugar, cake mix, icing, candy, rolls, corn meal, stuffing mix and gravy mix.
Pat Roden, president of the St. Patrick's organization, commented, "We are thankful to those who so generously give back so that we can help those in need during the holiday season."
For more about the work of the St. Vincent de Paul Society, visit this section of our website.